Sebelius Resignation Gets Mixed Reviews
Questions Still Plague Rollout, Particularly for African-Americans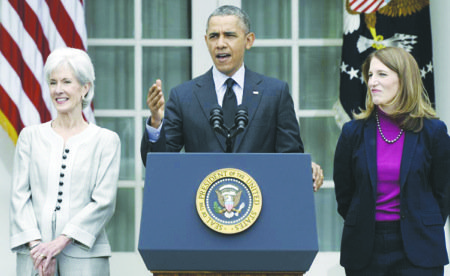 Republicans have promised to continue their fight against the ACA.
"I think what you're going to see is an effort to continue to repeal it and replace it," Tennessee Republican Sen. Marcia Blackburn told CBS News. "Now, we know we're not going to get it off the books until this president is out of office, but we will continue our efforts [to get rid of it]," said Blackburn, 61.
Sen. Ted Cruz (R-Texas) said Sebelius' resignation is the latest indication of "just what a disaster [the ACA] is."
"It's the most disastrous, the most damaging piece of legislation in modern times," said Cruz, 43. "And, I believe she resigned because Senate Democrats are scared of getting trounced in the 2014 midterm elections."
Obama and other Democrats, however, strongly disagreed.
The president declared that Sebelius would go down in history for her role in the ACA and he said she "got it fixed, got the job done and the final score speaks for itself."
At a ceremony in the Rose Garden at the White House on Friday, April 11, Obama again praised Sebelius and said the ACA has proven to be a great piece of legislation.
"Under Kathleen Sebelius' leadership, her team turned the corner. There are 7.5 million people across the country [who have] the security of health insurance, most of them for the very first time. That's because of Kathleen Sebelius and we are very proud of her," Obama said.
Rep. Elijah Cummings (D-Md.) said Medicaid expanded and Sebelius accomplished a great deal in regard to health care disparities, women's health, and she's brought the nation closer to an HIV/AIDS free generation.
"She's accomplished a lot," said Cummings, 63. "The website problems were significant, but Sebelius was assiduous in fixing them and ultimately that will just be a footnote in history."