Students Push to Halt Planned Wal-Mart
4/16/2014, 3 p.m.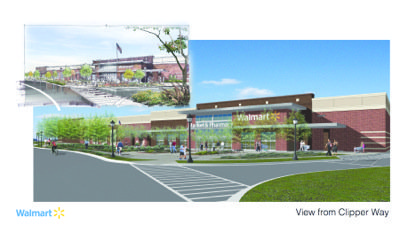 Students and faculty at two schools in Prince George's County are maneuvering to stop plans for a proposed Wal-Mart store in Oxon Hill that would sit next door to the schools.
Developers are proposing a 100,000 square-foot Wal-Mart Super Center for the site near the intersection of Oxon Hill Road and Clipper Way. The store would abut two schools in Prince George's County – Oxon Hill High School and John Hanson Montessori School. The store will be a part of the Potomac Business Park, a site being developed by the Fairfax,Va.-based Peterson Companies, which also developed National Harbor.
But students said they're concerned about the impact the neighboring store will have on own their school. Parents at John Hanson Montessori School joined students and staff at Oxon Hill High School in October for a protest near the proposed site of the store and are now petitioning the county council to deep-six the project.
"It's unconventional to put [a Wal-Mart] next to an elementary school and a high school," said Gabrielle Headly, 16, a student journalist at Oxon Hill High. "There has been a lot of anti-Wal-Mart things being done."
The store was originally slated to open last year but officials at Wal-Mart pulled the project from consideration by the county. Wal-Mart resubmitted plans this fall that incorporated feedback from the community, though the property is already zoned for development. Wal-Mart's current zoning application is now with the Office of the Zoning Hearing Examiner, which could render a decision to move the application forward during a hearing scheduled for Thursday, May 1.
Officials at Wal-Mart said that there is a large customer base in Prince George's County that prompted the decision to pursue a location in Oxon Hill. Amanda Henneberg, a spokesperson for Wal-Mart said that residents in southern Prince George's County spend $16 million annually at Wal-Mart locations in Northern Virginia. The company has three stores in the county including locations in Bowie, Landover, and Clinton along Route 5, which is the closest to the proposed site.
"We think our store will be an anchor for the vision for Oxon Hill Road as a retail destination," Henneberg said. "We look forward to providing the local community with convenient shopping options that include fresh, affordable food and a wide assortment of general merchandise."
But students and faculty at Oxon Hill High School said they are mobilizing to put the brakes on the project, or have it built elsewhere in the community citing concerns regarding traffic and safety.
"We're trying to stop the building of Wal-Mart," said Paulette Brown, a staff member at the school. "Our aim is safety over money."
Brown said she's concerned about the increased traffic along Oxon Hill Road, which connects to National Harbor, the new Tanger Outlets shopping center, and the future location of MGM National Harbor.
Brown said more students who live at a neighboring apartment complex along Oxon Hill Road will be walking to the school in the coming year adding to concerns about pedestrian safety.