Students Push to Halt Planned Wal-Mart
4/16/2014, 3 p.m.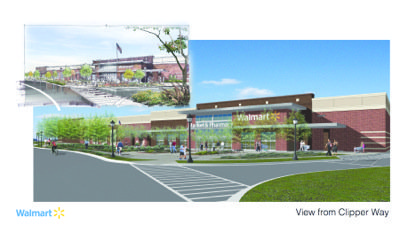 "Traffic is already heavy…We're jammed packed," she said. "The neighborhood already has a number of businesses."
Gabrielle said a second protest is planned near the site along with a petition that is being circulated among students at Oxon Hill High. Still, she admitted student opposition to the store has waned in recent weeks.
"I feel like a lot of students … have fallen off from the battle and it's just [the] Student Government Association at this point," she said. "Students never stay on anything for too long." 
But officials at Wal-Mart said they've already made concessions for safety in planning for the store and to ensure it will have minimal impact on both Oxon Hill High and John Hanson Montessori School.
Henneberg said the current plan has the store sit about five football fields away from Oxon Hill High. The new site plan also directs traffic away from the school and creates a buffer between the store's property and the elementary school.
"The distance from the store to the school is far enough that the store's traffic should not impede or create any safety issues at Oxon Hill High School," Henneberg said, noting that the store has gained the support of more than 300 residents. "We will continue to listen and work closely with the community."
For more Prince George's County/Maryland news, follow @JoshuaGarnerDC on Twitter.