VIRGINIA BRIEFS: EIP Prepares Students for College
4/16/2014, 3 p.m.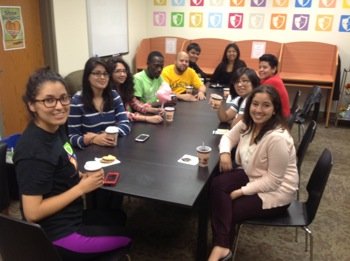 Amira Dalmazio, a T.C. Williams High School senior, is one of several students who participated in a five-year long partnership that supports students who are the first in their families to attend college.
Students eligible for the George Mason [University] Early Identification Program (EIP), are identified in the 8th grade, and upon acceptance, they receive weekly mentoring from the university's graduate students and participate once a month in college preparatory sessions. During the summer, they participate in a three-week Standards of Learning preparatory course.
At age 10, Amira moved to Alexandria from France speaking no English. Now she's fluent in the language, has a 3.92 grade point average and takes five Advanced Placement classes and one Dual Enrollment class in ACPS' Academy of Finance program.
Amira credits EIP with giving her the drive and confidence to learn more about higher education.
"I came to this country in sixth grade. I started the EIP process in 8th grade where my mother and I learned so much about college preparation," said Amira. "The program helped me with the SAT and to stay on top of my schoolwork. EIP also helped me apply to colleges – and I just interviewed with GMU for a full scholarship."
Kindergarten Registration
Kindergarten registration for the 2014-15 school year is now open from 9 a.m. to 1 p.m. during regular school days at all schools.
According to Virginia law, a child must be five years old on or before September 30 to register for kindergarten.
However, in order to be admitted to school, children must meet all documentation and health requirements.
In the meantime, parents can watch a video on the ACPS website that explains the importance of registering now for the 2014-15 school year.
The video titled, "Register for Kindergarten at ACPS," and which is also on YouTube, features Cathleen Chamberlain, a kindergarten teacher at Douglas MacArthur Elementary School and her class. In the two-minute video, the children talk about what they like most about school.
Two Educators Receive Top Awards
Brandon Davis, principal at Cora Kelly School for Math, Science and Technology and Lori Shabazz, a teacher at Patrick Henry Elementary School, have been honored for their outstanding roles in the education of ACPS students.
Davis is the recipient of the 2014 Distinguished Educational Leadership Award and Shabazz is the winner of the 2014 Agnes Meyer Outstanding Teacher Award. Both awards are given by The Washington Post.
Superintendent Alvin Crawley thanked both educators for being champions of students at their schools.
"Under Mr. Davis' leadership, Cora Kelly students made significant academic gains," Crawley said. "Cora Kelly is now one of the division's best-performing schools on state assessments."
He added that Shabazz serves as an inspiration to her students and colleagues.
"She carries her unwavering commitment to her students' success beyond the doors of her school and into her students' homes and the community," said Crawley.