Wizards Chase NBA Glory
Wall, Beal Help Wrap Up Postseason Push, Seek Title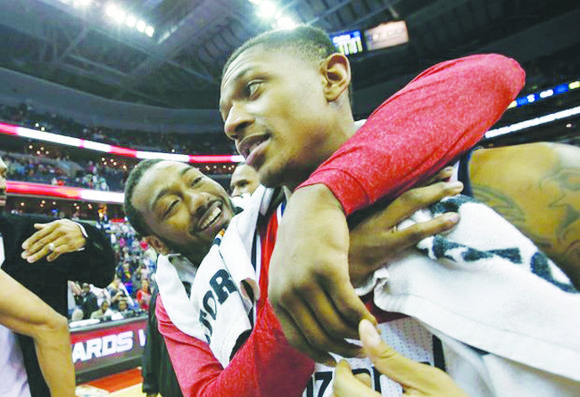 It's playoffs time in the nation's capital and the Washington Wizards and their fans are now getting a taste of what team officials promised when they selected John Wall with the top pick in the 2010 NBA draft.
For the first time since the 2007-08 campaign, the Wizards will not only finish the regular season with a winning record, but Wall and company have qualified for the playoffs.
"When Ted Leonsis took over as owner of the team, this was his vision and his plan," said Wizards President Ernie Grunfeld.
"John Wall has grown into a great player and Bradley Beal is very good," said Grunfeld, 58. "We've added some veterans and we feel good about the progress that we've made and we feel that we're headed in the right direction."
The arrow on the team's fortunes, which have been pointing upward since the beginning of the season when they signed Wall to an $80 million contract extension, further rose when the Wizards thumped the Boston Celtics, 118-92, at Verizon Center in Northwest on April 2, to clinch a postseason date.
Following the playoff clincher, an emotional Wall said it took a lot of hard work and sacrifice for the team to succeed this year.
"I didn't think it would be this tough. It's everything that I've been waiting for as a point guard and trying to learn how to lead in this league and become a better player," said Wall, 23.
Like Grunfeld, Wall said making the playoffs is something the fans deserve as much as the team.
"I think our fans really deserve it. The tough times they went through … and feeling bad when we [were not playing well]," Wall said.
"It took a long time, but I'm kind of happy and excited to say that I'm going to be in the postseason, I won't have an early vacation."
Unlike the Wizards last playoff run in which they lost to the Cleveland Cavaliers in the first round, this team and its fans are optimistic that the season could end on a special note, perhaps with a championship.
"They are jelling at the right time and it's a good mix of young stars, veteran all-star types and just savvy older guys," said Jordan Gray, a Northeast resident and avid Wizards fan. "The top two teams are Miami and Indiana and both have had their share of problems coming down the stretch, so I think if we play to our ability we can do some major damage," said Gray, 45.
Another longtime Wizards fan, Donald Crutchfield, also of Northeast, said the outcome of the playoffs could be impacted by injury, unexpected slumps or other unforeseen occurrences. "That's why it's important to make the playoffs," said Crutchfield, 44.
"You're in dogfights, tough match ups and someone, say on the Heat like LeBron James, gets hurt. Well, the series takes a dramatic change in your favor and the next thing you know, you're onto the next round and then the next round and finally the championship game."