Gray Launches Effort to House Families in D.C. General Shelter
dc.gov | 4/17/2014, 11 a.m.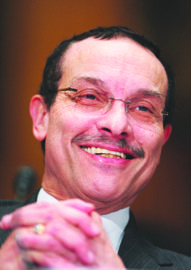 D.C. Mayor Vincent C. Gray joined the Community Partnership for the Prevention of Homelessness (TCP), The Transitional Housing Corporation (THC) and the Coalition for Non-Profit Housing and Economic Development (CNHED) Thursday for the official launch of the "500 Families. 100 Days. Quality DC Housing Now" campaign.
The effort is a key part of the mayor's Crisis Response Plan to address the demand for housing for homeless families by increasing the stock of affordable housing rental units that landlords and developers make available.
"Although the fiscal year 2015 budget my administration submitted to the Council plans for an additional $100 million investment in affordable housing to build on the historic $187 million commitment we made in the last two years, we are focused on moving our families out of shelter and into stable housing as quickly as possible," Gray said.
Through the campaign, the Department of Human Services (DHS), in collaboration with TCP and THC, has launched an aggressive initiative to identify 500 apartments for formerly homeless families in 100 days. Gray met with the Apartment and Office Building Association in the first week of the campaign, which began April 1, to advocate for housing on behalf of homeless families. He continued his appeal Thursday with a larger group of landlords and nonprofit interest groups.
"We are encouraged by the initial results of the outreach efforts of the '500 Families. 100 Days.' campaign," said DHS Director David Berns. "In these first two weeks, 27 families were able to exit from shelter, and we have been in touch with many new landlords interested in more information."
Landlords or developers with available, affordable apartments who are interested in more information about the campaign may write to housethehomeless@dc.gov