Local Singer Wendy Hicks to Help Fellow Artists at Northwest Show
4/17/2014, midnight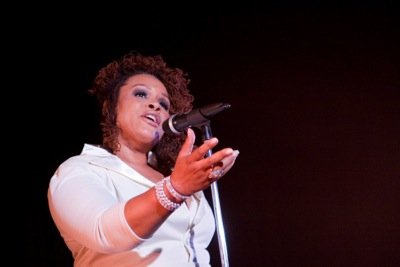 Local artist Wendy Hicks, who has made it her mission to assist and promote independent artists in the D.C. region, will perform her new single "Welcome" with her band, The W.E.N.D.Y. Project, during the latest installment of her Soul's Journey Series at the Burke Theatre on Saturday.
The show, which starts 7:30 p.m. at the Northwest theater, will also showcase singer/actor Kenny Barnes, a native Washingtonian and graduate of the Duke Ellington School of Performing Arts. Comedian Alabama from Baltimore's Laugh Factory will perform as well.
The Soul's Journey represents a lifetime of musical performance, business development and success motivation. The series is the brainchild of Hicks, who aims to educate and provide support and tools to help independent artist fulfill their musical goals.
"Everyone has a dream, but in order to fulfill a dream we all need dream-makers. So I decided to help close the informational gap that exist for independent artist and become a dream-maker," she said.
Saturday's show — "From the Past to the Present" — is the third installment in the series and will highlight sounds from the early '60s to today.
Hicks is also the creator and editor of SoulFusion magazine and its accompanying Internet tv/radio show "Indie Voice," which provides independent artists with information and resources needed to start a project.
For tickets, visit EventBrite (https://www.eventbrite.com/e/the-souls-journey-series-iii-from-the-past-to-the-present-tickets-10690269885) or purchase at the door.