COMMENTARY: Heatwave Won't Break This Year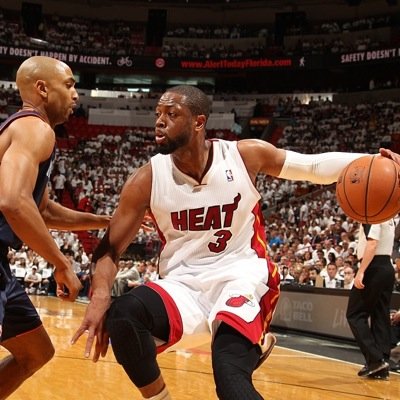 I'm one of those sports guys who gets a kick out of witnessing history. That's a major part of the reason why I'd like to see the Miami Heat win their third straight title, and as long as Dwyane Wade stays healthy, I believe they will.
Now that we've gotten that out of the way, let's talk also-rans. Who has the best shot at knocking off the defending champs? Stop me if you've heard this one before, but the team that I believe has the best chance to beat the Heat is the San Antonio Spurs.
For the past five seasons I've heard NBA fans call the Spurs old, boring and dull. Even their superstar, Tim Duncan, is called the "Big Fundamental." Whoever came up with that name should be reprimanded, by the way (I'm looking at you, Shaq). Maybe we should call Duncan the "Big Bank Shot," or the "Big Presence," or "If-you-bring-that-mess-in-here-again-I'm-gonna…" Well, no. That one would be too long. In any event, the Spurs won more regular season games than any other team, including 19 straight at one point, the league's longest win streak this season.
The Spurs organization has just had a habit of winning since the turn of the century. In fact, were it not for a last-second Ray Allen 3-pointer in last year's Finals, we'd be talking about who's going to dethrone San Antonio. So there's every reason to believe that Duncan and the Spurs could be hoisting the Larry O'Brien championship trophy for the fifth time in June.
The only other team that can beat the Heat is the Oklahoma City Thunder. OKC is led by P.G. County's own Kevin Durant, probably the league's next MVP. Durant is about 6'10" tall and can do it all. He's joined by one of the league's best guards, Russell Westbrook, who finally looks healthy after three knee surgeries in 12 months.
In the East? Miami's pathway is a bit smoother. The NBA's arduous and challenging 82-game regular season is now in the rear-view mirror — good news for a two-time champion that predictably seemed bored and ready for the postseason months ago.
Another team glad to see the playoffs finally start is the top-seeded but suddenly stumbling Indiana Pacers. Indiana is likely to be the Heat's largest obstacle in the way of a fourth straight Finals appearance — if they don't implode first. Just Saturday, the Pacers lost Game 1 to the eighth-seeded Atlanta Hawks, immediately surrendering the home-court advantage they clamored for all season long.
Indiana's sluggish start goes to show you can't overlook any team once the postseason begins, no matter how big a mismatch. Conventional wisdom tells us that the eventual champion will probably be one of the top four seeds, but this is sports, of course, and we all know that it doesn't always work out that way. You can't win a championship on paper, and that's why we play the games.
I believe the Heat will get it done again as long as Wade stays on the floor. He missed more than 20 games during the regular season due to scheduled rest and "general soreness," whatever that is. What I do know is that this is not the time of year for Wade to be sore. He can rest during the offseason. The Heat need a healthy Wade to be a stalwart defender and provide much-needed leadership and scoring.
Oh, and there's LeBron James. In what will go down as another stellar — if unappreciated — season for King James, he will likely finish second to Durant in the MVP voting, due almost as much to voter fatigue for LeBron as KD's next-level performance. But LeBron is no longer competing with contemporaries — he's chasing championship rings to stack up with the game's past legends, and this is the time of year that matters most for him.
We all know what a motivated James can do on the court, and when paired with a focused and healthy Wade, it's difficult for any opponent to beat Miami four out of seven. Expect a Heat three-peat.