D.C. Mayor Gray Welcomes CBS Radio to Capitol Riverfront
Margaret Summers | 4/21/2014, 2:23 p.m. | Updated on 4/21/2014, 7:16 p.m.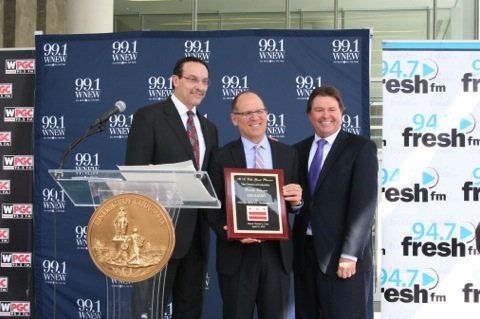 D.C. Mayor Vincent Gray announced Monday that CBS Radio's six locally-heard stations will move to the Capitol Riverfront office building, a move the mayor said will contribute to the revitalization of the District's economy.
CBS Radio completed a 15-year lease to relocate the six stations from Lanham, Md., to 1015 Half Street SE. The company's newest broadcast facility includes a 33,000-square-foot floor plan that will have offices, a street-level studio and a performance space where recording artists can host live shows and other types of interactive performances.
The building is located two blocks from Nationals Park and dozens of office buildings, restaurants and condominiums which opened in recent years.
"This area used to be off-limits," said Gray said Monday during a press conference at the building. "It was known as the area of the Navy Yard, but not much else. It has changed radically."
In attendance were representatives of the six radio stations: WPGC-FM, 94.7 FRESH-FM, Spanish-language station El Zol, sports stations The FAN and CBS Sports Radio, and All News 99.l. Council member Anita Bonds (D-At Large) and other city officials were also on hand for the latest move in the mayor's effort to bolster what he called the District's "creative economy."
"The recession and sequestration opened our eyes to the fact that we can't be as dependent on the federal government as we have been," Gray said. "Sequestration and the recession hit us pretty hard."
Gray said he and Victor Hoskins, deputy mayor for planning and economic development, are bringing more corporations and private companies into the District to generate revenue and reduce dependence on the federal government.
He particularly touted a plan to open a new soccer stadium in the city, which he envisions leading to a partnership with El Zol.
The mayor said he hopes to connect with thousands of Spanish-speaking soccer fans in the D.C. region who listen to or watch games played by teams from Latin American countries.
"There's a [potential] marriage in there somewhere," he said.
Gray said new businesses in the District have created approximately 120,000 jobs.
"When CBS Radio moves its regional corporate headquarters to the District, there will be another 350 full- and part-time jobs generated," he said.
Gray added that CBS Radio's presence in the community, along with those of other new businesses, will inspire more local artists to open studios and art spaces in the area.
Steve Swenson, senior vice president and market manager for CBS Radio's D.C. division, said the most exciting part of the new space for him is its planned glass-front studio facing L Street in Southeast.
"People will be able to look in and watch news and other programs on our station broadcast live in that studio at times," he said. "We'll host live panel discussions there."
Swenson said they will also build a performance space in the studio where musical artists who come to D.C. can give live shows.
"We explored a lot of areas when we were determining where to move our mid-Atlantic regional headquarters," he said. "But it was important for our growth plan to locate in the center of the 'DMV' [D.C., Maryland and Virginia]."
Dan Mason, president and CEO of CBS Radio said the new location will enhance the work of the stations' program hosts.
"Radio is live, emotional and touches listeners," Mason said. "This move will be exciting for the on-air personalities."
Following the news conference, the audience was given a brief tour of the facility, which will house CBS Radio's offices and studios. Participants also viewed the station's floor plan.
Construction will begin in May, with the new performance space opening later this summer and the rest of the building being completed by year's end.