Obamas Worship at D.C.'s 19th Street Baptist Church for Easter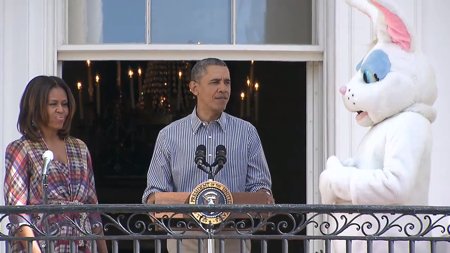 President Obama and his family attended Easter services on Sunday at the 19th Street Baptist Church in Northwest, where Obama once attended before he was inaugurated in 2009.
The Rev. Dr. Derrick Harkins, who presided over the 2009 service, did the same Sunday.
"Let me just say, to the first family, to the president of the United States, Barack Obama, to the first lady of the United States and Miss Malia and Sasha, we welcome you," Harkins said.
The church, which was founded in 1839, was known as the First Colored Church of Washington. In 1974, the church moved to its present location on 16th Street even though it retained its present name.
The Obamas have worshipped at black Washington churches such as Allen Chapel AME in Southeast and the Vermont Avenue Baptist Church in Northwest. Like many of his predecessors, he has worshipped at St. John's Episcopal Church in Northwest, which is known as the "church of presidents" and has a pew reserved for the sitting president.
The first family has also attended services at the Washington National Cathedral in Northwest.
Obama is not the only recent president with local church connections. Jimmy Carter and his family worshipped at the First Baptist Church of the City of Washington in Northwest, where he also taught Sunday School classes. President Clinton and his family regularly attended Foundry United Methodist Church in Northwest.
The Obamas have opted not to choose a church while living in the White House. In Chicago, they attended Trinity Church of Christ that was led by the Rev. Jeremiah Wright, who has been known for his straightforward, critical views of race relations in America.
On Sunday, 19th Street congregants reportedly treated the first family well and the president slipped a white envelope in the contribution plate.