Rubin 'Hurricane' Carter, 76, Remembered in Death as True Fighter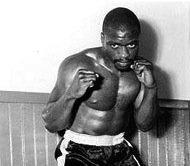 Rubin "Hurricane" Carter, a boxer who spent 19 years in prison for a wrongful murder conviction, died Sunday in Toronto from complications of prostate cancer. He was 76.
During his incarceration, Carter's case attracted international attention and the support of the civil and human rights community.
In 1966, Carter and a friend, John Artis, were arrested by police in Paterson, N.J., for the killing of three whites in a local tavern. Despite little physical evidence linking the two men to the crimes and none of the eyewitness to the murders identifying them as the killers, both were convicted in 1967.
Carter was granted a new trial and briefly freed in 1976, but imprisoned for nine more years after being convicted in a second trial. In 1985, a federal judge declared that Carter and Artis did not get a fair trial and released them.
Carter, who had a boxing record of 27-12-2 with 19 knockouts, never won a world championship, though he lost a middleweight title fight by decision in 1964. The murder conviction essentially ended his career, as he served much of the next two decades in prison.
He published his autobiography, "The Sixteenth Round," in 1974 as his plight became a cause celebre. The next year, famed folk singer Bob Dylan released a song, "Hurricane," in his honor.
Denzel Washington, who played Carter in the 1999 biopic "Hurricane," issued a statement after his death: "God bless Rubin Carter and his tireless fight to ensure justice for all."
Carter served as the executive director of the Association in Defence of the Wrongly Convicted in Toronto from 1993 to 2005, supporting people who were wrongly convicted of crimes and working to get them released or a new trial.
Win Wahrer, the director of client services for Carter's association, called him "a great mentor and teacher."
"I felt very fortunate to have those times with him. … He lived a full life," Wahrer said.
Former heavyweight champion Mike Tyson tweeted Sunday, "we lost a great man today, Rubin 'Hurricane' Carter, the boxer who was wrongfully accused and became a symbol of racial injustice. RIP."