Chuck Brown Celebration to Mark Two-Year Anniversary of 'Godfather's' Death
4/22/2014, 10:16 p.m.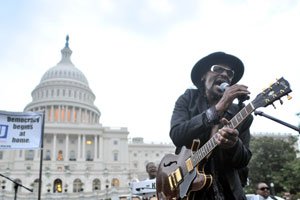 "Two Years, No Tears," a celebration of the legacy of music legend Chuck Brown, will take place at the Howard Theatre in D.C. on May 16, the two-year anniversary of the death of the iconic "Godfather of Go-Go."
The celebration, which starts at 11:30 p.m., will be headlined by the Chuck Brown All Star Band, who toured around the world with Brown during his last years. Chuck's daughter, KK, is a member of the band, which includes the Horny Horns, Sweet Cherie, Mighty Moe Hagans, Karlston "Ice" Ross, Marcus Young, Kenny "Kwickfoot" Gross and newest member Frank "Scooby" Sirius.
Joining the band will be a host of D.C. icons and personalities, including Sugar Bear from EU, Buggs from Junk Yard Band, Ms. Kim from Familiar Faces, Andre "Whiteboy" Johnson from Rare Essence, Ms. Yendy and Black Boo of Mambo Sauce, and Killa Cal.
For more information, visit http://thehowardtheatre.com/show/2014/05/16/the-chuck-brown-band/ or contact Tom Goldfogle at 301-602-8109 and tom@fullcircleentertainment.net.