St. Columba Students Win Big Honors at Science Fair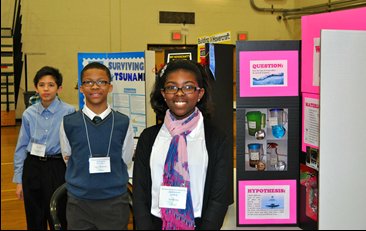 Three students from St. Columba Catholic School in Oxon Hill were recently the first-ever participants of the school in the annual Prince George's Area Science Fair, with two of them taking top prizes.
The fair, now in its 66th year, was held April 4-5 Charles Herbert Flowers High School in Springdale, Md., and hosted by Prince George's County Public Schools' science department. Roughly 600 students from Prince George's, Calvert and St. Mary's counties participated in this year's fair, which was themed "Creating the Next Generation of Global Science, Technology, Engineering and Mathematics (STEM) Leaders."
St. Columba's Ariel Wright, a sixth-grader, won first place for Plant Science, while 8th-grader Kevin Pointer Jr. took second place in the Physics and Astronomy category. Ariel, Kevin and 7th-grader Daniel Apperson represented St. Columba after winning the school's science competition. It was the first time St. Columba's 76-year history that it had participated in the county fair.