Black LGBT Seniors Struggle with Double Discrimination
Matthew S. Bajko, Special to The Informer from New America Media | 4/23/2014, 3 p.m.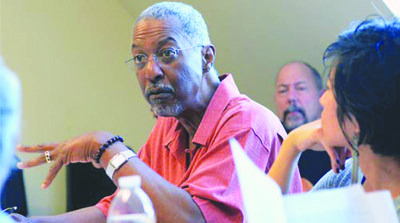 In San Francisco, African-American seniors who are lesbian, gay, bisexual or transgender (LGBT) often face double jeopardy in terms of discrimination. Within the black community, they struggle to overcome homophobia. In the LGBT community, they encounter race-based prejudices.
"We've gotten burdened at both ends of the candle. By the African-American community, which until recently tended to be more conservative relative to the LGBT community within its own ranks," said Larry Saxxon, 61, a gay black man who served on the city's LGBT Aging Policy Task Force.
Shunned by Two Communities
"A lot of the African-American community still works under the larger social, psychological and political tendencies of the church," he said.
Saxxon added, "On the other hand, we've gotten burned by the LGBT mainstream community at large because of racism."
Those experiences can hamper elder LGBT African-Americans' willingness to seek out support within either community, noted Saxxon.
"You have a very narrow margin in which you can survive and glean support when you can't fall back on racial bloodlines because of homophobia, and you cannot fall back unconditionally on the LGBT community because of racism," he said. "You have a very small margin within which to work."
Those experiences were captured by the findings of the report, "Addressing the Needs of LGBT Older Adults in San Francisco: Recommendations for the Future." Completed in March, the study is based on a survey that the city's Task Force commissioned last year.
Of the 616 LGBT residents (ages 60 to 92), who took part in the survey, 5 percent identified as African-American. (The city's total black population, both LGBT and straight, was 6 percent in 2012 and has been in decline for years.)
The survey found that the African-American participants "are at greater risk" for being discriminated against due to their gender identity, sexual orientation, race and gender "relative to other racial or ethnic groups."
Similar to the survey's Latino respondents, African-American LGBT seniors in San Francisco are also less likely to own a home compared to other LGBT seniors in the San Francisco and are more likely to be in the closet. Both racial groups also reported higher rates of needing mental health services and alcohol or substance abuse programs.
"I have often told people that being old, black, and gay in America is tantamount to being dipped in a vat of acid every single day when I walk outside my door," said Saxxon. "I have to pray for grace and endurance so I can walk out with dignity and, with the help of a higher power, to walk back in. I can't allow this society to rob me of my spiritual joy of living."
It is unknown how many LGBT African-American seniors are living in San Francisco, as the city's senior demographics are not broken down by race and sexual orientation. It is believed that as many as 20,000 LGBT seniors currently live in the city.
Nationally, the 2010 U.S. Census data does not distinguish LGBT seniors by racial group among the country's 42 million adults aged 65-plus. But overall, a 2013 report on LGBT older adults by the National Gay and Lesbian Task Force estimates that "anywhere from 1.5 to 7 million older adults" are a part of the LGBT community.