Broccoli City Festival Promotes Healthy Lifestyle
Thousands Gather for Annual Event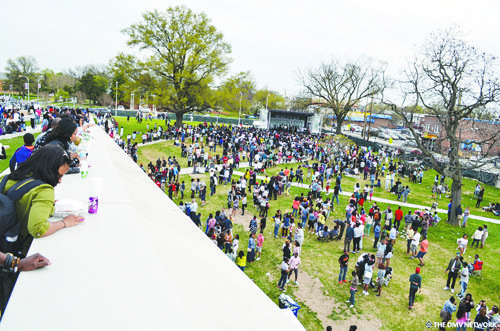 Thousands of people celebrated Earth Day during an event that featured more than two dozen hip-hop and R&B artists last weekend.
The Broccoli City Festival attracted more than 5,000 people from across the D.C. metropolitan area and the country. Over the course of eight hours, visitors at St. Elizabeths East Campus in Southeast bobbed their heads and snapped their fingers as music blared from jumbo speakers, enjoyed chicken and waffles, lobster rolls, and curry goat with rice and cabbage from food trucks, and worked up a sweat during group cardio workout sessions.
"You all are beautiful," said Brandon McEachern, 30, founder of the Broccoli City Lifestyle Group, a Los Angeles-based environmental sustainability-focused nonprofit from which the Saturday, April 19 event received its moniker.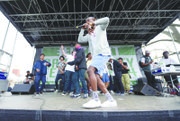 During his remarks, McEachern, who hails from Studio City, Calif., thanked visitors for supporting the Broccoli City Lifestyle Group's efforts and challenged them to make smarter choices about what they eat and their lifestyles.
"It's always good to see us come together peacefully as people of color. We gave you a deal. You spent $30 for [numerous acts] and vendors. This is a chance for us to [work toward maintaining] a balance in our lives. You like to eat at McDonald's? That's fine but please make sure that you're running and exercising as well," McEachern told the crowd.
The second annual festival in the District counted among numerous events that occurred in more than 190 countries around the world in observance of Earth Day, a yearly celebration of the environment and world peace that fell on Tuesday, April 22. It preceded another gathering that the Broccoli City Lifestyle Group will host on May 3rd in Los Angeles.
On the grounds of the east campus, local go-go group Future Band, two-time Grammy-nominated artist Reesa Renee, and hip-hop producer Just Blaze kept the crowd jumping throughout the afternoon. Harlem hip-hop artist Cam'ron closed the show, performing his hit songs "Oh Boy," "Get 'Em Girls," "Get It in Ohio," and "Down and Out" long after the sun had set.
Those who didn't feel like standing near the stage area practiced yoga exercises, purchased custom jewelry, and learned about the importance of creating healthy food options in urban neighborhoods.
"I really connected with this amazing crowd," said Julie Pitts, 26, founder and designer of Woodville Unlimited, a Durham, N.C.-based custom wooden jewelry business. Pitts, who sold her merchandise at the Broccoli City Festival in 2013, spent much of the afternoon chatting with visitors and showcasing her creations that included an array of necklaces, bracelets and earrings.
"Even though I'm from North Carolina, I really feel at home here," said Pitts. "People really like my jewelry. I attended the festival last year and I really looked forward to the message that [the Broccoli City Lifestyle Group] had to give. It's earth friendly and holistic. It's always good to be in an environment where people can carry themselves in such a mature way," said Pitts who also lives in Durham.
Supe Wheatley, a student at Northern Virginia Community College in Woodbridge, Va., said he couldn't wait for Cam'ron to perform. He's been a fan of the rapper since he joined Roc-a-Fella Records and formed The Diplomats, a hip-hop group also known as Dipset.