Broccoli City Festival Promotes Healthy Lifestyle
Thousands Gather for Annual Event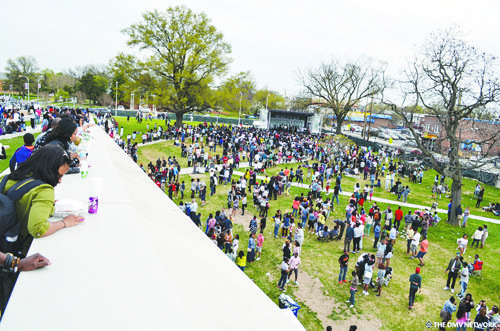 "I was a big fan of Dipset growing up," said Wheatley, 20. "So far, I've listened to some of the acts and [visited] a few vendors. It's my first time coming here. I would definitely come back," said Wheatley, an Alexandria, Va. resident.
Star Ofogh said she enjoyed listening to the tunes that the deejays played. Sporting fuchsia shades, she clapped her hands and danced with her friend on the grassy field throughout the afternoon.

"The festival offered so much," said Ofogh, 24, an educator. "[My friend and I] wanted to check out the local vendors. I liked eating crab cakes from one of the food trucks. Events like this always bring people together. It's good to check out the music that I wouldn't normally listen to. People had a chance to show their talent so it's always good seeing that," Ofogh, a Springfield, Va. resident, said with a smile.

Garland Gantt spent much of the afternoon sampling lobster rolls from food trucks and catching up with old friends. Although the native Washingtonian expressed his excitement that the Broccoli City Lifestyle Group hosted the festival east of the Anacostia River, he remained skeptical that D.C. residents would ever see a similar gathering of young, black people ever again.
"I came here to have a good time," said Gantt, 30, a practicing attorney since 2012. "The Broccoli City Festival's a relatively new event in the city. There are not many organized events where you can get thousands of black people together peacefully. As D.C. becomes more gentrified, I have a feeling that we will not see festivals like this [anymore], so I'm holding on for as long as I can," said Gantt, a Northeast resident.

Some vendors like budding entrepreneur Sentel Allen purchased a booth at the festival hoping to attract a new customer base for his business "No Dream Deferred." Since starting in March, the Chapel Hill, N.C.-based boutique has launched a collection of customized T-shirts with inspirational messages emblazoned on the front.
The cotton shirts, some of which read "Keep Dreaming" and "Don't Quit," piqued the interest of passersby and sparked discussion throughout the afternoon.
"We took this opportunity to [spread the word about our brand] and give our shirts some exposure," said Allen, 27. "Our mission goes hand-in-hand with that of [Broccoli City Lifestyle Group]. Our business sends positive messages to people and [encourages them to] believe in their dreams," said Allen, who also lives in Chapel Hill.
Broccoli City Lifestyle Group started in 2009 as a retailer of clothing made from organic materials. It later expanded its operations, developing programs that promoted the importance of a healthy lifestyle and a clean environment. The inaugural festival at the Half Street Fairgrounds in Southeast in 2013 attracted 5,000 people. Sponsors of this year's event in Congress Heights included the DC Sustainable Energy Utility headquartered in Southeast and Pepco in Northwest.
"It's incredible to see how our idea grew," said Darryl Perkins, 29, Broccoli City Lifestyle Group's vice president. "Something that started as a block party turned into a gathering of 5,000 people celebrating Earth Day. We just want to continue to redefine cool and help people get in tune with the environment," said Perkins, who lives in Northeast.