CURRY: Memories of LBJ, Jimmy Carter and Bill Clinton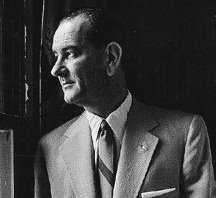 But Johnson didn't start out as a progressive. As President Obama said of Johnson in his speech in Austin, Texas, "During his first 20 years in Congress, he opposed every civil rights bill that came up for a vote, once calling the push for federal legislation 'a farce and a sham.'"
But stepping into the Oval Office upon the assassination of John F. Kennedy, Johnson was able to rise above his past.
Unlike Johnson or Clinton, Jimmy Carter had a close relationship with African Americans growing up in Georgia.
"I grew up in a little village, unincorporated named Archery, Ga., just a few miles west of Plains," Carter recounted. "…We were surrounded by 55 other families who were African American. All of my playmates, all of my companions in the field – the ones I hunted with, fished with, wrestled with, fought with – were Black people," Carter said in his speech.
He explained, "I learned to appreciate, you might say, Black culture. When I wrote a book called Hours Before Daylight, at the end of the book, I tried to think of five people other than my parents who had shaped my life and only two of those five were White."
Bill Clinton was a good president but was probably the most overrated of the three Southerners. When looking at permanent cabinet positions, he appointed more Black cabinet members than Barack Obama, he was a firm supporter of affirmative action and appointed two liberals to the Supreme Court – Ruth Bader Ginsburg and Stephen Breyer. But he also was part of the successful movement to shift the Democratic Party to the right and signed into law a regressive welfare reform measure.

Last week's summit at the University of Texas celebrated the 1964 Civil Rights Act. It could have also been a celebration of three Southern-born presidents who managed to overcome the rampant discrimination of their youth.
George E. Curry, former editor-in-chief of Emerge magazine, is editor-in-chief of the National Newspaper Publishers Association News Service (NNPA). He is a keynote speaker, moderator and media coach. Curry can be reached through his website, www.georgecurry.com. You can also follow him on Twitter at @currygeorge and the George E. Curry Fan Page on Facebook.