Group Walks to Fight Eating Disorders
Anorexia, Bulimia, Plague Young Women, including Blacks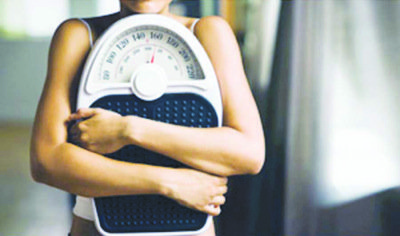 Fighting self-loathing and battling the stress of her father being hospitalized with a massive coronary, Lisa Beasley could only think of one way to ease the heavy emotional load that she carried.
"I'd go to a restaurant, a sit-down place, fast food, it didn't matter," Beasley said.
"Then, I'd order two of everything and I'd swallow the food as if I'd never eaten before and then of course I'd make myself vomit," said Beasley who suffers from both anorexia and bulimia.
The binge eating and purging wasn't a one-time occurrence for Beasley, who like so many others suffering from the mental illness known as eating disorders, continued to try and feel better by drowning her sorrows in food.
Beasley, 22, an African-American who lives in Northeast, said she hopes not only to one day recover from the illness that overtook her a decade ago, but she wants to eventually run an organization that helps individuals with emotional, psychological and other disorders.
Latasha Venable, a Biology major at a local college, said she also suffers from anorexia and bulimia and has had difficulty coming to terms with her illness.
"I think about food all of the time and not because I'm hungry," said Venable, 24, who stands at 5-foot-9-inches.
"So, I overeat and then I start feeling really awful about it and then I go to the bathroom and put my head over the toilet. I realize that this does nothing for my appearance. Look, I'm about 111 pounds, but for me, it's not like I'm trying to attract attention from men right now."
Officials at the New Yorkbased National Eating Disorders Association (NEDA) said they are waging a war against eating disorders and unrealistic ideals about physical appearance.
To help raise funds, spread awareness and support the local community, the organization has scheduled its fourth annual D.C. NEDA Walk at the National Mall on Sunday, April 27.
Statistics show that about 20 million women and 10 million men in the United States suffer from a clinically significant eating disorder, including anorexia nervosa, bulimia nervosa, binge eating disorder, or some other kind of eating disorder.
A recently published study by the University of Southern California in Los Angeles, revealed that while eating disorders have historically been categorized as a problem for young white females, black women are 50 percent more likely than whites to be bulimic.
"I think it's important to reach out to African-American women because it isn't just a white girls illness, it's like all other mental illnesses in that there's a stigma and it's difficult to get people to talk about it," said Shelly Montgomery, a Northwest resident and American University student who will help lead the NEDA walk beginning at 10 a.m.
Montgomery, 22, who's Caucasian, said as the walk approaches, she's preparing to reflect on her own battle with anorexia and bulimia.
At age 13, Montgomery, who coaches field hockey at the university, said she was assaulted by someone she knew and trusted. That traumatic experience and other problems led Montgomery to view her body differently, she said.