LETTERS TO THE EDITOR: Bowser Will Need Our Support
4/23/2014, 3 p.m.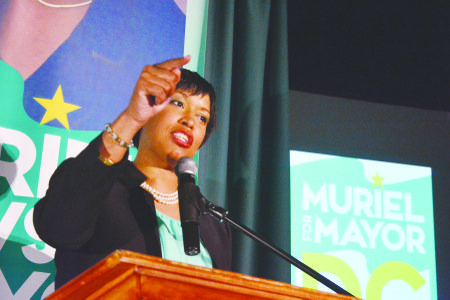 I appreciate The Informer's coverage on the District's political scene – especially James Wright's weekly political roundup.
Because I like to call myself a close follower of D.C. politics, I find Mr. Wright's column to be up-to-date, fair and accurate. He's in tune with the pulse of the city, and that, coupled with his persistence and ability to remain neutral and unbiased places The Informer among the best for partisan reporting.
Now that Ward 4 Council member Muriel Bowser will be competing for the mayor's post in the November general election, my concern is not about how well that race will be covered, but how well the District's non-white residents will support her.
Of course, there will be those who won't vote for Bowser (and it's true she'll have a struggle filling shoes the likes of Anthony Williams and Vincent Gray) and that's their right.
But at a time when it appears that the color of the District is gradually changing, we need to be rethinking its leadership in terms of how it's going to best benefit black residents who are usually disproportionately affected in unemployment, affordable housing, school closings and a host of services and incentives afforded to new, incoming white residents under the guise of gentrification.
Considering the slate of candidates who've already lined up for the election, in my opinion it would be wise to rally support around Bowser to keep some semblance of black leadership firmly based at the top of city government. Once she's in office we can rest assured that while she'll wear the title of mayor she'll be surrounded by a strong network of movers and shakers who will help keep things on track.
Doris Rollins
Washington, D.C.
Celebrating the Cherry Blossoms
I just wanted to share my excitement seeing the District finally freed of Old Man Winter's grasp and happily skipping into spring, where on April 10, the cherry trees reached their peak.
I missed Saturday's parade, but understand thousands of people who came from all over, basked in the sunshine along a 10-mile stretch on Constitution Avenue as the colorful procession headed toward the Tidal Basin.
Year after year, since 1912 when Mayor Yukio Ozaki of Tokyo presented the District with 3,000 cherry trees – the first of which were planted at the Tidal Basin – Washingtonians and people from around the world have enjoyed the timeless gift.
Despite the wonderful lineup of performers at the April 12 celebration, at the end of the day – and as usual – the cherry blossoms reigned supreme.
Those glorious cherry blossoms – what a classic Washington scene!
Joanne Wilson
Washington, D.C.
We Salute Our Students!
I take my hat off to the students at Oxon Hill High School for taking a stance against the building of a Wal-Mart next to their school ["Students Push to Halt Planned Wal-Mart," April 17, 2014 by Joshua Garner]. I don't have anything against the Wal-Mart brand. I just think it's an important learning experience for students to be informed about things happening in their community, and if they don't agree with a decision, by all means take a stance for what they think is right.
Their concern is over the amount of traffic the store would bring in and around both their school and the John Hanson Montessori School, which would lead to safety issues. These students have a long hard fight ahead of them because Wal-Mart is a multi-billion dollar corporation, but to take a stance for something you believe is right is more valuable than 10 multi-billion dollar corporations, and I applaud them for that.
Martin Anthony
Suitland, Md.