P.G. County Briefs: Employers Unite for Students' Success
4/23/2014, 3 p.m.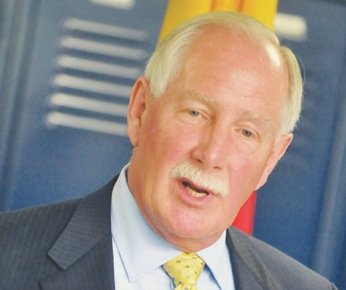 Henry Wise Jr., Northwestern and Laurel high schools have been identified as Maryland Business Roundtable for Education STEM Innovation Schools.
The schools will have access to services and resources that will help their students as they transition into the workforce and strengthen their chances for success in both college and their careers.
"The STEM Innovation Schools program is a perfect example of the great impact our business community can have on public education," said Dr. Kevin M. Maxwell, schools CEO. "This will greatly enhance the STEM program at our three selected high schools, and will provide a wonderful opportunity for students to learn more about STEM careers from professionals in the field."
Recent research shows that the more students interact with workplace professionals throughout their education, the more they earn later in life. Also, students who recalled at least four school-mediated employer contacts between ages 14-19, earned 18 percent more three years out of high school than students who could not recall such interactions, according to the research.
Five Teams Headed to Global Finals
Five school teams have advanced to the Destination Imagination Global Finals after competing in the state competition on April 5 at the University of Maryland Baltimore County.
The finals bring together more than 8,000 elementary- to college-age students from around the world in a showcase of creativity and innovations that center on technology, fine arts and science, to name few.
More than 25 squads competed in the state competition, and the five teams and their participants who will be representing Prince George's County Public Schools at the Global Finals are:
Bond Mill Bulldogs – Haley Bateman; Grace Beck; Kenny Graninger; Marcus Jones; Amy Lepore; Peyton Ridgely; and Michael Stroud.
Cool Beans Crew (Bowie and Eleanor Roosevelt high schools) – Allie Crump; Troy Hepler; Laura Hyre; Temi Ibitoye; Kristy Le; John Abendroth; and Anna Fitzmaurice.
Kenmoor MS Gummy Bears – Iman Owens; Nailah Reaves; Mariamu Sackor; Janaya Taylor; Michelle Troxler; and Odi Uhegwu.
Senior Citizens (Bowie and Eleanor Roosevelt high schools) – Dylan Knolls; Joshua McFarland; Victoria Simmons; Maddie Simmons; and Izzy Swafford.
Whitehall 7ups – Tinuke Alarapon; Dorian Barnes; Kai Cooper; Alicia Fernando; Gabrielle Fredrick; Kamryn Jackson; and Madison Spencer.
The Global Finals will be held at the University of Tennessee in Knoxville May 21-24.
'Principal for a Day' Considered Huge Success
The county schools system in partnership with the Prince George's Chamber of Commerce, recently hosted its annual "Principal for a Day" program, where participants who selected the school of their choice, shadowed the principal throughout the school day.
In doing so, the business, government and community leaders assisted and observed a range of student activities and special events.
"We achieved a milestone with a total of 217 business partners for Principal for a Day," said Schools CEO Kevin M. Maxwell. "It just shows the level of commitment to create and sustain a strong and supportive partnership. We're in this together."
The participants also got a feel of what a routine school day is like while experiencing some of the challenges faced by administrators in public education.
"There are a lot of similarities with a principal's job and public relations," said Craig Muckle, public affairs manager for Safeway grocery stores. "All the different fires they put out, and constantly changing schedules, definitely had me feeling right at home."