THE RELIGION CORNER: Twelve Things That Make Men Rich (Part 6)
4/23/2014, 3 p.m.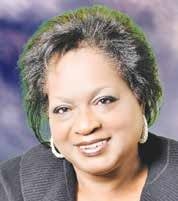 As it is written…Call those things which be not as though they were. Romans 4:17.
This 5th step on the list of 12 Things That Make Men Rich by Napoleon Hill is Hope of Future Achievements. While watching my favorite movie "The Coal Miner's Daughter," I heard Doo Little Lynn ask Loretta Webb at the time, "You got any plans for the future?" And Loretta at only age 13 said, "Not that I know of!" That was their first meeting! She got married to Doo at age 13, and they stayed together until his death about 10 years ago.
Loretta Lynn came from the hills of Kentucky, from a made-up town called Butcher Holler; and became the first lady of country music. She owns a 6,500-acre ranch in Hurricane Hills, Tenn. She purchased that land many years ago. Though she didn't have any hope for the future, her husband had a lot of hope for her. He enjoyed listening to her sing, and he was like an anointed man. As positive thoughts came into his head he listened. Then he put those positive thoughts into action.
Loretta didn't realize what was happening! But her husband took one step, one right after the other, she trusted him and her life changed forever.
Be ready and willing to learn something new; treat others with care and compassion. The first thing we need to do to get the hope we need for future achievements is to become curious. Be ready and willing to do and try things you've never done or tried before.

You never know when you will meet someone that the Lord has sent into your life for the good. Life is like being born into a mansion that has a thousand rooms, and without our knowledge, we have full access to every room in this mansion. Yet most of us live our entire life in one room.
There must be a reason most people never get into those other rooms. Either we don't know they're there, or we can't find the door.

Here is where books like the Holy Bible and Think and Grow Rich come in as your guide. Though you may have read your scriptures daily, Hill's principles teach men faith steps to take.

Therefore, we don't have to live our lives on a day-to-day basis, just waiting to see what comes next with no hope for future achievements.

Let go of things we've experienced that hinder our growth and try your hand at something new. Let's use swimming as an example. No one can read instructions to learn to swim. You must get into the water and practice; you fail and keep trying until you learn.
Practice being kind rather than being right. Say to yourself, "How can I suspend this angry, negative part of me and allow this part of me that wants to be at peace that wants to be happy to come forth." Choose peace for the rest of your life, which is what God wants for us. He mentions "My peace I give you" 105 times in the scriptures. When you place your hope in the Lord and look to your future, you will find peace.
Sometimes, the way we speak to each other doesn't sound like love. Whether you have a right to say something negative or not, to have hope for a good future, you must choose kindness first.
When you have a choice to be right or to be kind choose kind behavior.
It's that positive attitude about life that will help propel you toward the goal that you see in your future. When you don't, you are off course.
Lyndia Grant is an author, inspirational and motivational speaker, radio talk show host and columnist. Visit her new website at www.lyndiagrant.com and call 202-518-3192. Tune in Fridays at 6 p.m. to her radio talk show on 1340 AM, WYCB, a Radio One Station.