Remembering 'The Hurricane': Famed Boxer Rubin Carter Dies at 76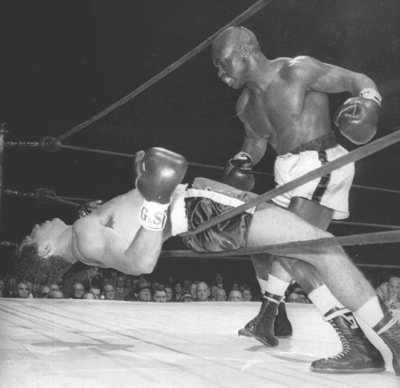 Boxing fans may remember Rubin Carter as a fearless and ferocious puncher with a left hook that few opponents had the chin to withstand.
Carter won 27 fights, 20 by knockout, but a controversial decision in New York robbed him of winning the middleweight title in 1964.
For those who may not follow boxing, Carter was immortalized in the 1975 Bob Dylan song, "Hurricane." And, if Dylan's music isn't in the iPods or CD collections of many individuals today, most will likely recall superstar actor Denzel Washington's Academy Award nominated portrayal of Carter in the 1999 movie "The Hurricane."
"We at Events DC were saddened to hear about the passing of Rubin 'Hurricane' Carter," said Gregory A. O'Dell, president and CEO of Events DC, which has held four major championship fight cards in the nation's capital since 2011.
"Rubin is celebrated for his boxing prowess, but his greatest triumph comes in the contributions he made to society with his passionate work on behalf of the wrongly accused. His tireless fight for justice in the face of insurmountable odds is an inspiration to all."
Carter died from complications due to prostate cancer on Sunday, April 20, in Toronto. He was 76.
Although he never fought in the District, Carter began his professional career with a decision over Pike Reed at the Navy-Marine Corps Memorial Stadium in Annapolis.
He followed that up with 11 knockout victories in his next 14 fights, to earn the nickname "The Hurricane."
"At 5-feet-8, he didn't seem tall enough to be a middleweight, but he fought most of his professional career at 155-160 pounds," said ESPN boxing writer Ron Flatter.
"His shaven head, prominent mustached, unwavering stare and solid frame made him an intimidating presence in the ring decades before such a look became commonplace," Flatter said.
In a statement, movie star Washington urged everyone to celebrate Carter's crusade for justice, not just his own, but others. "God bless Rubin Carter and his tireless fight to ensure justice for all," said Washington, 59.
This week, fans in the District who never saw him fight in person recalled the raw power and the indomitable ring presence of Carter.
"He was an amazing man," Angel Joel Mojica, a fight fan who lives in Northwest posted on Twitter. Speaking of Carter's wrongful conviction in which he served nearly 20 years in prison, Capitol Hill resident Mary Shaffer said the justice system robbed the sport and its fans of the best years of Carter's career.
"What an injustice," Shaffer said, of the conviction. "What a travesty." Carter's career was derailed by his conviction along with another man, John Artis, of three murders that took place in a bar in Paterson, N.J., in 1966.
Police officers stopped Carter's car and escorted the boxer and Artis to the crime scene where cops
claimed they found ammunition in his vehicle that matched weapons used in the murder. 
However, it was later revealed that the officers had no way of conducting such tests.
Ten years later, Carter won a new trial and his temporary release from prison. After a second trial that also resulted in a conviction, the boxer and Artis were sent back to prison for nearly a decade.
Finally, a judge noted that police and prosecutors had violated Carter's right to a fair trial and the man known as the Hurricane won his freedom in 1985.
After his release, the New Jersey native moved to Toronto and took up the cause of helping to free wrongly convicted prisoners.
Carter founded the Association in Defence of the Wrongly Convicted (AIDWYC), an organization that has secured the exoneration of 18 wrongly convicted individuals.
At the time he founded the AIDWYC, he told reporters that he decided to become an activist because he was moved by all of those who helped him.
Two years ago, when Artis, 67, found out that Carter had been diagnosed with cancer, he moved in with the former boxer to help care for him.
In March, Artis told reporters that he'd do anything for his old friend.
"He didn't ask me, but when I heard that he was dying, it was a no-brainer," Artis said. "I didn't give it a second thought. All he knew was I knocked on the door and said, 'All right. I'm here.' That pleased him. It brought a chuckle from him"