Sean Combs Controversy Lingers at Howard
Selection of Mogul for Commencement Address Sparks Debate
4/23/2014, 3 p.m.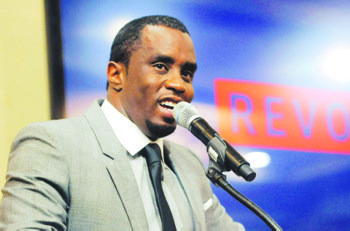 The selection of rap impresario and business mogul Sean Combs to present Howard University's commencement address remains a lightning rod of controversy for students, alumni and the historically black college's administration.
Students at the school, located in Northwest, have posted their opposition to Combs on social media and on message boards around campus.
"I'm not sure that I'm thrilled about him being our commencement speaker, because I'm not sure what he's going to tell me," said Shay Bell, a senior and business major at the school.
Another student, Geoffrey Witherspoon, who's in his third year of law school at Howard, said the university must consider better choices of commencement speakers in the future.
"I think we should hold our alum to a certain standard," said Witherspoon, 27.
"A lot of influential people didn't graduate from college, but I would just feel much more comfortable having an [alumni] come back and speak to us who wasn't just present when we had to give him an award or when we're throwing a party."
Combs, who recently reverted to using the nickname "Puff Daddy" after being called "Diddy" for more than a decade, attended Howard for two years before dropping out in 1990.
Some students have not only pointed to his departure from Howard as a reason for their opposition to his giving the commencement speech, but they've also cited Combs' violent entertainment productions that immediately followed.
For instance, in 1991, Combs promoted a charity basketball game and rap music concert inside the gym of City College in New York.
Due to overcrowding and a lack of security, a melee erupted and, in the stampede that followed, nine people were killed.
A few years later, Combs and his former girlfriend Jennifer Lopez were investigated for their alleged role in a New York nightclub shooting that left three individuals seriously wounded.
Combs' protégé, Jamal "Shyne" Barrow, was later convicted of the shootings and he received a nine-year prison sentence.
Both Combs and Lopez refused to cooperate with investigators, but neither were charged.
The "Bad Boy Entertainment" star's reputation has left some of Howard's alumni perplexed. They said his selection as the commencement speaker will only damage the school's image.
"We have been in the press for everything from homecoming going awry to funding with the hospital," said Michael Fraser, who graduated from Howard with a business degree six years ago. "I would think they would get a figure that could lift the school's image."
Third year student and marketing major, Jesse Salas, said too many are focusing on Combs' rough image, particularly the 1991 City College incident.
"It was one of those things that got out of control, but I don't think you can blame Puffy," said Salas, 20. "Look at what he's become," he said.
In announcing Combs as the keynote speaker for the Saturday, May 10 ceremony in which 1,800 students will be awarded degrees, Howard's interim president Wayne A.I. Frederick said the superstar has become a respected entrepreneur, philanthropist and entertainment mogul.