D.C. Political Roundup: Ward 4 Politicos Eye Possible Council Vacancy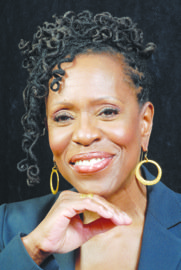 Mere moments after D.C. Council member Muriel Bowser (D-Ward 4) received word that she'd won the Democratic nomination for District mayor on April 1, political activists and observers in her ward started to speculate as to who would occupy her council seat.
Bowser, 41, is the heavy favorite to win the mayor's race – no Democrat has ever lost the mayoral general election in the District – and there will probably be a special election to replace her in May 2015.
Cherita Whiting, a well-known Ward 4 activist who has served as an advisory neighborhood commissioner and an aide to D.C. Council member Phil Mendelson (D), said she's heard a few names being bandied about.
"I've heard Brandon Todd, Joshua Lopez and Joe Martin," Whiting said at the Democratic Party's Unity Breakfast on April 4 at Matthews Memorial Baptist Church in Southeast. "There may be some others and there is a great deal of talk about this on the list serves."
Brandon Todd is a longtime Bowser confidant and the president of the Ward 4 Democrats. Lopez is a close friend of former D.C. Mayor Adrian Fenty, a noted critic of D.C. Mayor Vincent Gray (D) and a former advisory neighborhood commissioner.
Joe Martin served as former advisory neighborhood commissioner in the Northwest ward.
Todd, 30, who is working actively to elect his mentor as the city's next mayor, wouldn't comment on the possible council member race and neither would Lopez, who's also working on behalf of Bowser.
However, Douglass Sloan, the advisory neighborhood commissioner for 4B09, said that he's considering running for the council seat.
"I have talked to friends and supporters of mine and that is the direction that I am looking at," said Sloan, 41.
Sloan ran in the May 2007 special election to replace Fenty as the Ward 4 council member and in 2010 against D.C. Del. Eleanor Holmes Norton in the Democratic Party primary.
Renee Bowser, the advisory neighborhood commissioner for 4D02, said that she may jump in the race.
"I am definitely taking a hard look at it," said Bowser, 65. "I came in second to Muriel in 2012 and I was well ahead of the other competitors. I am really concerned about the education of the ward's children, people being forced to leave the ward because they cannot afford to live here and we need more jobs in the ward."
Renee Bowser is a labor attorney and has served on the D.C. Commission on Human Rights. She said that she will make her decision on whether to run for Muriel Bowser's seat in the near future.
Sloan said that it would be prudent for potential candidates for Council member Bowser's seat to exercise restraint at this point.
"We have to see what happens on November 4 and then we can take it from there," he said with a smile.


Gaston Running for Board of Education
Darrell Gaston, the advisory neighborhood commissioner for 8B02, has thrown his hat into the race Ward 8 D.C. State Board of Education election that will be held on Tuesday, July 15. If elected, Gaston said that he will work to improve the learning experience for students.