Dunleavy, Bulls Steal Game 3 from Wizards
Elton Hayes | 4/26/2014, 5:42 a.m.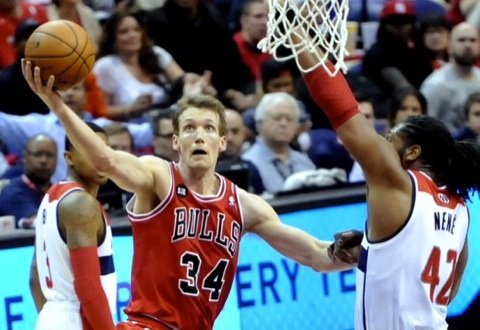 Chicago Bulls forward Mike Dunleavy calmly strolled into the press conference room located in the basement of the Verizon Center following Game 3 of the Wizards-Bulls playoff series. He slowly pulled out his chair to sit down. Before he addressed media members to give his perspective on the win, he twisted the cap off of his bottle of water, and took a sip.
His restrained press conference demeanor certainly did not match the ferocity with which he played less than an hour earlier.
Down 2-0 and heading into a pivotal Game 3 against a surging Wizards team, the unassuming Dunleavy scored a playoff career-high 35 points to single-handedly ensure that Chicago would return home with its playoff hopes still intact.
"It just feels good to get a win," Dunleavy said. "It's been a rough series. We were in a position to win a couple of games and didn't get them. So to come here, and hang on to get a victory, is the biggest thing. It doesn't matter if I score 35 points or zero, I'm just happy we won."
Dunleavy helped lead the Bulls to a 100-97 victory over the Wizards Friday night, in Washington's first home playoff appearance in six seasons.
After stealing the first two games on the road, the Wizards returned home with momentum and a chance to close out the series.
More than 23,000 loyal fans filled the Verizon Center early to participate in pregame festivities. And while the rain that fell prior to tipoff halted outdoor celebrations, scores still converged on F Street, NW, to experience the electric playoff atmosphere that had been absent from the city since the Wizards and Cavaliers met in 2008.
"I like being in an opposing arena where everyone is pulling against you, and you have a chance to beat the home team," Dunleavy said.
Following the trend of the first two games of the series, there was no shortage of physicality as bodies frequently slammed into each other when players attacked the rim. But tempers flared early in the fourth quarter when after making a basket, Washington's Nene unintentionally bumped into Chicago's Jimmy Butler. The two stood toe-to-toe and an altercation ensued. Nene was called for a foul, and subsequently ejected after he headbutted Butler.
Nene's defensive presence was sorely missed as Butler, who scored just six points in the three-and-a-half quarters before Nene's ejection, scored nine points once he exited the game.
But Wizards head coach Randy Wittman said the team's loss shouldn't be attributed to the absence of his veteran power forward.
"Everyone knows what [Nene] can do for us," he said. "It hurt, but we battled back and gave ourselves an opportunity."
Despite the final score, the Wizards dominated Chicago in nearly every statistical category. John Wall and Bradley Beal combined for 48 of Washington's 97 points, leading five Wizards who scored in double figures. And for a few minutes, it looked like the Wizards were about to hand Chicago its third series loss.
Down 89-88 with just under three minutes remaining, Beal, who scored a team-high 25 points, hit a 3-pointer to give the Wizards a two-point lead. Chicago answered and tied the game. A few plays later, Wall went to the free-throw line with 1:27 remaining to break the tie and put the Wizards in position to win.
Wall, who made sinking difficult baskets look easy for most of the night, failed to hit either free throw.
"We gave ourselves a chance to win the game. I just didn't do a great job of getting my team moving with the ball in the third [quarter], and [kept] the ball too stagnant," Wall, who finished with 23 points, said.
Wittman said a confluence of events led to the loss, but highlighted his team's lack of momentum.
"We had more blown assignments defensively tonight then we did combined in the first two games," he said. "It was just another one of those games. We went up by nine [points] early in the third quarter, and we lost our momentum offensively. We stopped moving."
The Wizards and Bulls meet again on Sunday at the Verizon Center and Chicago will look to even the series 2-2 before taking it back home.
Dunleavy is ready.
"We have a lot of respect for this team we're playing," Dunleavy said. "We knew we had to play really well to win. Tonight was just about coming out, bouncing back and keeping ourselves in the series. Now we have another crack at it again on Sunday."