McAuliffe Lauded for Expanding Voting Rights for Convicted Felons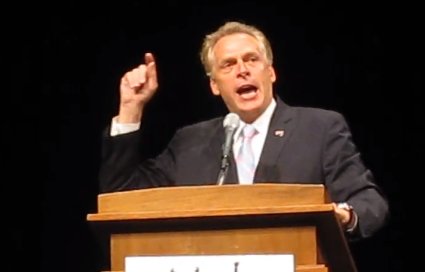 Virginia Gov. Terry McAuliffe's recent push to remove all drug charges from the state's list of felony offenses classified as violent has received the praise of a civil rights think tank.
The Democratic governor's move, announced Friday, will also reduce the waiting period for those convicted of violent felonies to regain voting rights from five years to three.
"We commend Gov. McAuliffe for taking a major step that will allow more Virginia citizens to participate in our democracy," said Judith Browne Dianis, co-director of The Advancement Project, a D.C.-based organization. "In order for automatic voting rights restoration to be meaningful, the process should be broadly applied and reach a significant number of the more than 350,000 Virginians who are banned from the ballot box due to prior felony convictions.
"Once a citizen has done time and repaid his debt to society, they should not be deprived of their fundamental right to vote," Dianis said, noting that one in five African Americans adults in Virginia are unable to vote because of a felony conviction. "We hope [McAuliffe's] decision will jump-start the process of dismantling this staggering justice."
The commonwealth still has plenty of work to do, however, said Edward Hailes, the organization's managing director and general counsel.
"We remain concerned about Virginia's continued distinction between violent and non-violent offenses in the voting rights restoration process," he said. "We encourage Virginia to join the majority of states, which do not make distinctions between different types of offenses, by passing a constitutional amendment to automatically restore voting rights for all."