Trevor Ariza's 30 Carries Wizards Past Bulls in Game 4
Elton Hayes | 4/27/2014, 11:50 p.m.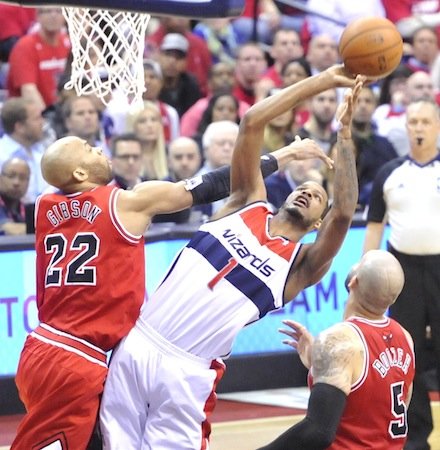 After squandering a nine-point second-half lead in Friday's 100-97 loss to the Chicago Bulls, many Washington Wizards fans questioned the players' emotional state going into Game 4 on Sunday.
Couple that with the fact that power forward Nene was serving a one-game suspension for an altercation in Friday's loss, and Washington's mettle would certainly be tested.
The Wizards did more than enough to remove that uncertainty from fans' minds, as Trevor Ariza scored a playoff career-high 30 points to lead Washington to a 98-89 victory and a 3-1 series lead Sunday afternoon at the Verizon Center.
Washington is now one win away from reaching the second round of the playoffs for the first time in nearly a decade.
"Tonight was my night to take on the scoring role," Ariza said. "Throughout this series I have been patient and just played the same way we've been playing all year. Tonight was my night."
Ariza didn't waste any time making an impact, scoring 11 points in the first quarter and connecting on three 3-pointers as Washington jumped out to a 17-2 lead.
And unlike Friday's late-game collapse, the Wizards maintained their intensity and finished with the same energy with which they began.
Up by 10 points with 1:03 left in the game, Washington center Marcin Gortat passed the ball to Ariza as he sprinted up the baseline. Ariza threw down a thunderous slam dunk between the Bulls' Taj Gibson and Joakim Noah, letting out a scream as the home crowd went into a frenzy.
"We were locked in early and we were locked in [at practice] yesterday," Ariza said following Sunday's win. "We were pretty disappointed with the way we lost Game 3, so we had to come out here today and take care of business. And that's what we did."
Washington's dynamic young backcourt was impressive again, as point guard John Wall recorded a double-double with 15 points and 10 assists, and shooting guard Bradley Beal had 18 points and five rebounds.
Head coach Randy Wittman praised the evolution and maturity of Wall.
"I think this series, he's really managed the game," Wittman said. "He's understanding who needs the ball, where they need it, where to attack and be aggressive himself. And then the most important thing for us, [he's] taking care of the ball."
Washington's defense was exceptional, forcing 16 turnovers and holding Bulls forward Mike Dunleavy to six points after torching them for 35 points in Game 3.
Nene's absence, expected to hamper Washington's defense the most, was largely a non-factor. His fill-in, Trevor Booker, finished with eight points, nine rebounds and three blocks. Gortat also added a block to go along with 17 points, six rebounds and five assists.
The team had learned to play without the Brazilian big man during the regular season, remaining competitive while he missed a number of games with a knee injury.
"Maybe the last 22 games [Nene] missed at the end of the year were a blessing in disguise," Wittman said. "Because Booker started all of those games and there [weren't] any worries about sticking in a guy to start in a playoff game with that deer-in-a-headlight look because one of [the] main guys is gone."
Washington can close out the series Tuesday in Chicago — a game Ariza, a member of the 2009 Los Angeles Lakers championship team, said will likely be the most difficult.
"The toughest game to play in a series is the close-out game because you have a desperate team that's fighting for its playoff life, and you have a team that's trying to take it from them," he said. "So I expect a lot of intensity and a lot of scrappy plays. We've just got to continue to fight, continue to play the way we've been playing, and try to get the win."