D.C. Arts Commission Executive Inducted into City's Hall of Fame
dc.gov | 4/28/2014, 11:46 a.m.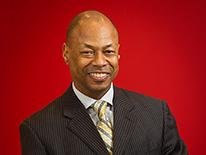 The Washington DC Hall of Fame Society honored DC Commission on the Arts and Humanities executive director Lionell Thomas during a gala Sunday with an award in the category of Cultural Arts.
Thomas joined awardees in other areas such as business, sports and education who have dedicated their careers to improving the quality of life in the city.
Other honorees included Michele V. Hagans, Andrea Roane, Deborah Shore, Leonard A. Upson, Dr. Ronald L. Ausbrooks, Hon. Arthur Burnett, Hon. Anthony A. Williams, Reverend Dr. Cheryl Sanders and Patricia Grace Smith.
"The creative industries in D.C. not only account for a huge impact in economic activity but make our city one that everyone wants to visit and move to. The District is a world class cultural capital," Thomas said. "As a D.C. Hall of Famer, I take my leadership responsibilities very seriously and commit my time to improving our cultural heritage."
Thomas returned to the District of Columbia government in October 2011 after serving as the executive director of the Prince George's Arts and Humanities Council for two-and-a-half years. He was previously with the DC Commission on the Arts and Humanities for more than 22 years, where he served in numerous capacities throughout the agency, eventually serving as the deputy director and interim executive director.
Over the years, Thomas has been cited as a dynamic arts administrator and for his profound sensitivity to arts and culture and commitment to improving the quality of life for District residents.
"Lionell Thomas has dedicated decades of service to enriching District residents and visitors through the arts and humanities, and we at the Commission applaud this well-deserved honor," says Judith Terra, chair of the DC Commission on the Arts and Humanities. "Lionell exemplifies leadership by consistently working to showcase the District's amazing arts and cultural contributions. The District shines as a creative city, in part, due to Lionell's dedication."
Washington DC Hall of Fame is a 501(c)(3) organization that recognizes District of Columbia residents who have had an outstanding impact on the city. The Legacy Award was established in 1998 by Dr. Janette Hoston Harris, City Historian of D.C.