Gray Signs Legislation to Start Development of Skyland Town Center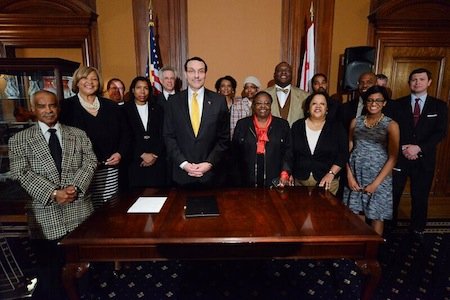 D.C. Mayor Vincent Gray officially signed legislation Monday to push forward with the development of the Skyland Town Center, authorizing a $40 million Tax Increment Financing subsidy to get the long-awaited project underway.
The mayor signed the legislation with members of the D.C. Council, the leadership and staff of the Office of the Deputy Mayor for Planning and Economic Development and the town center's development team.
The development of the former Skyland Shopping Center has long been a priority of Gray, a resident of Ward 7 who lives near the site. He has worked to remove bureaucratic and legal hurdles that have been in places for decades in order for the town center to become a reality.
"Today is a momentous occasion for the residents of Ward 7, as the city finally makes good on a promise first made decades ago," he said. "The journey here has been long and hard, but I am excited to sign legislation that will bring much needed retail and amenities to the community."
The Town Center is set to be anchored by a Wal-Mart store, middle and upper-income level housing, and other retail outlets and restaurants. The project, which broke ground in March, is scheduled for completion in 2017.