Howard U. Students Take Part in STEM Festival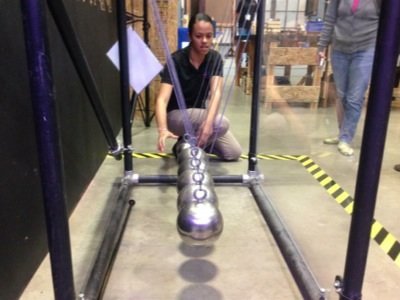 Students from Howard University were among a diverse cadre of instructors and trained professionals who provided highly visual and hands-on activities during the recent USA Science & Engineering Festival in Northwest D.C.
The two-day festival, held over the weekend at the Walter E. Washington Convention Center, was free of charge and open to all ages. The event exposed hundreds of thousands of grade school and college students to numerous scientific concepts aligned with their favorite science, technology, engineering and math (STEM) activities.
"It [was] fun to do the exhibits with the kids and explain to them how everything works," said Tatiana Cody, an education major at Howard. "As a future teacher, this was a good experience for me because I can use the individual exhibits to help students better relate to science and understand why it's important to everyday life."
The festival, billed as the nation's largest celebration of science and engineering, offered more than 3,000 exhibits and featured more than 150 stage shows, including a book fair with more than 25 participating authors.
Among sponsors for the third annual festival were Chevron, DiversityComm, Walmart and Lockheed Martin, which was also a founding host.
Chevron supports school STEM programs by partnering with education organizations, government officials and community leaders to increase both access and the quality of academic and career technical training for students and workers.
The Howard students, who joined Chevron in its commitment to education and career training, spent their time at the festival teaching scientific concepts at the Chevron STEM ZONE interactive exhibit. The exhibit featured 3,600 square feet of interactive demonstrations, including a hydrogen car challenge workshop and a 3D printing demonstration.
Howard sophomore Kianna Cole said that "as a minority, I felt it was important" to participate and "show others that if I could do it, they can do it."