Southeast Students Celebrate Love of Reading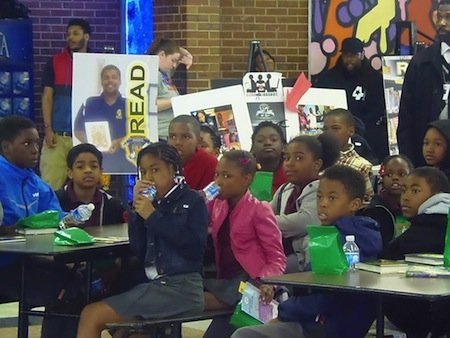 A group of students from Simon Elementary School in Southeast discovered recently that reading is not only fundamental but can also be lots of fun — especially when the community is involved.
Having fun while sharing a love of reading was the purpose behind the inaugural "We Read! Community Day," which attracted about 450 people on April 23 at Ballou Senior High School.
"My principal shared that it would be nice to walk down the hall seeing students in the cafeteria reading books for pleasure or of their interests -beyond the classroom," said Melissa Jackson, library media specialist at Ballou, who coordinated the event.
"We came up with a slogan to get the students motivated to read and after their interests were sparked, we asked them to pledge to read five books and write summaries about what they read," Jackson said. "[The responses] were so great that we decided to ask the community to pledge to read and share books."
The two-hour afternoon event, which was recorded by District Cablevision, promoted reading for all ages, and featured local authors and performances by Ballou students.
Jackson said students from all feeder schools within walking distance of Ballou were invited.
"However, Simon Elementary responded quickly, [saying] they would bring their 3rd-, 4th- and 5th- grade classes to our celebration," she said.