CBC Chair Fudge Commends Hagel Response in Military Hair Dispute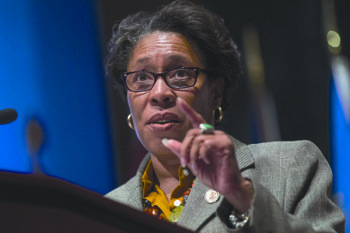 Rep. Marcia Fudge (D-Ohio), who chairs the Congressional Black Caucus, praised Defense Secretary Chuck Hagel Tuesday for addressing an Army grooming regulation deemed insensitive to the natural hairstyles worn by black females.
"I want to thank Secretary Hagel for his thoughtful response to the concerns of members of the Congressional Black Caucus and to many women of color currently serving in our Armed Forces," Fudge said. "Secretary Hagel has committed to careful review of each Service's language and grooming policies to ensure both are clear of offensive language and are respectful of the diversity within our Armed Forces. Secretary Hagel also assured us that the Army's intent with AR 670-1 was not to offend or discriminate against women of color."
Fudge said the fact that Hagel responded at all "affirms his commitment to ensuring all individuals are welcomed and can continue to be proud of serving within our Armed Forces."
Fudge and the other female members of the caucus wrote a letter to Hagel earlier this month concerning the "offensive and biased" regulations that would discipline black women in the military for wearing differing, cultural hairstyles, which they said are often referred to in derogatory terms by some U.S. Army officials.
"Army officials have responded to criticism of the regulation by saying it applies to all soldiers regardless of race and that they are meant to protect their safety," the letter stated. "However, the use of words such as 'unkempt' and 'matted' when referring to traditional hairstyles worn by women of color are offensive and biased. The assumption that individuals wearing these hairstyles cannot maintain them in a way that meets the professionalism of Army standards indicates a lack of cultural sensitivity conducive to creating a tolerant environment for minorities."