Oprah, Starbucks to Assist U.S. Dream Academy Via New Tea
4/29/2014, 5:05 p.m.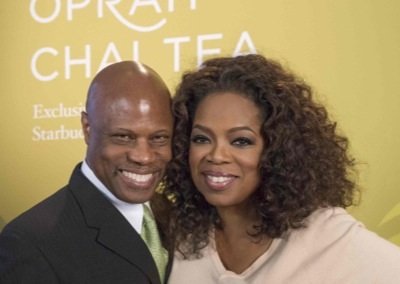 The U.S. Dream Academy has been selected as one of the groups to receive proceeds from the sale of Teavana Oprah Chai in support of their educational opportunities for youth, part of a joint initiative between media mogul Oprah Winfrey and coffee chain Starbucks.
The tea will be available beginning Tuesday in Starbucks and Teavana stores across the U.S. and Canada.
The Academy, established in 1998, is a national after-school and mentoring program. Currently operating in 8 cities nationwide, the organization attempts to reach children most at risk of incarceration by providing them with supportive mentoring and the use of technology.
"My daily tea ritual is a vital part of my morning," Winfrey said. "When Howard Schultz offered to have me come into the Starbucks tasting room and create my very own tea blend, I thought that sounded like such a unique opportunity and fun to the tenth power. To share one of my favorite things with the rest of the world and support youth education at the same time is truly the perfect blend."
Contributions from sales of Teavana Oprah Chai products will go to the Oprah Winfrey Leadership Academy Foundation, which provides funding for the Oprah Winfrey Leadership Academy for Girls – South Africa.
Additionally, for every Teavana Oprah Chai product sold at Starbucks or Teavana, Starbucks will make a donation to the foundation.
Winfrey's foundation will also support youth education organizations such as Girls Inc., National CARES Mentoring Movement and Pathways to College.