Alexandria Seniors Provided Free Home Repairs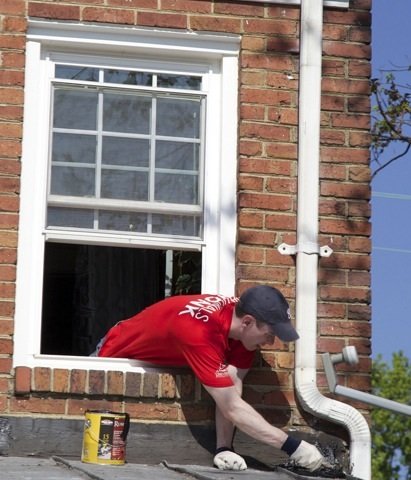 "National Rebuilding Day originated in 1972 in Midland, Texas," she said. "A Sunday school teacher [challenged] his students to repair homes of [needy] families. It's rumored that someone whose home was repaired said, 'This is like Christmas in April!'" Since then, said Dixon, National Rebuilding Day is always held on the last Saturday in April.
Seniors needing RTA's services complete an application to prove that they cannot pay for home repairs on their income. RTA inspects their homes and determines what repairs should be made. "The average age of our clients is 72," said Dixon.
Before leaving for assigned worksites, volunteers gathered at First Baptist Church on King Street at 7:30 a.m. for coffee and donuts. Alexandria Councilmember Tim Lovain and the city's mayor William Euille thanked them for improving the quality of life for low-income senior citizens.

Several volunteers expressed satisfaction with making seniors' homes safer. "Now a [senior] woman doesn't have to worry about a ceiling falling in on her after we've done six and a half hours of repair work," said Cynthea Gismegian, 41, of Woodbridge, Virginia. "I think that's worth getting up early for on a Saturday."
RTA is funded by grants and fundraisers. Its sponsors include the city of Alexandria, Booz Allen Hamilton, Wells Fargo and Capital One banks. Visit www.rebuildingtogetheralex.org for more information.