In Crowded Households, Stress is a Killer
Rabiya Hussain, Special to The Informer from New America Media | 4/30/2014, 3 p.m.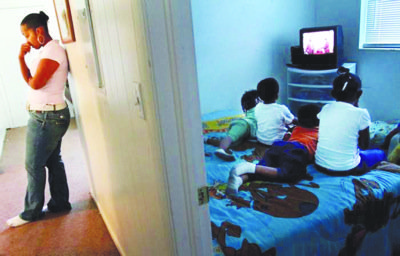 The accepted rule of thumb is that housing costs should be no more than 30 percent of a household income, to allow other basic needs to be met.
However, close to 130,000 Long Beach renters, including Ramirez, spend somewhere between 30 and 65 percent of their income on rent, said HLB Executive Director Kerry Gallagher.
"Some families cope and they have really affordable rent, but they live in really terrible, substandard units," Gallagher said. "Other families cope by living in overcrowded homes. So it makes it more affordable, but it adds on all these impacts of the stress of living in an overcrowded environment."
Currently, the median rent for a two-bedroom apartment in Long Beach is $1,513 per month in the downtown area, and $1,200 in North Long Beach. That would require a single person to earn an hourly rate of $29.09 or $23.07, respectively, in order to afford that rent while not exceeding 30 percent of their overall take-home pay, according to HLB.
Furthermore, the report concludes, if the Long Beach tourism industry continues to create low-paying service-sector jobs while the California minimum wage stays stagnant at only $8.00 hour, "the imbalance between jobs and housing will tip further and further toward un-sustainability."
Rabiya Hussain is a Journalism & Mass Communications student at CSU Long Beach and a contributor to VoiceWaves, a youth-led community journalism project founded by New America Media to report on community health issues in Long Beach. The project is supported by grants from The California Endowment and the Long Beach Community Foundation.