D.C. Native Taraji P. Henson Portrays Legendary Coach
New Film, 'From the Rough,' Chronicles Career of Catana Starks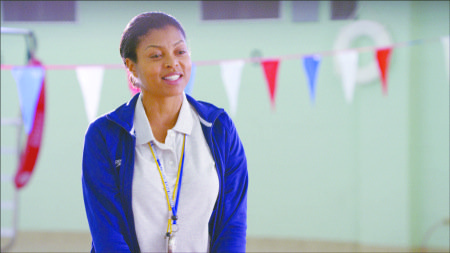 One of the District's favorite and well-known actresses returns to the silver screen this week in a role that she called one of the most satisfying of her career.
Taraji P. Henson, a native of Southeast and a Howard University graduate, stars alongside the late Michael Clarke Duncan in, "From the Rough," the story of Catana Starks, who made history nearly 30 years ago at the historically black Tennessee State University as the first African-American woman to coach a men's NCAA Division I golf team.
"I was attracted to the film because it dealt with actualizing one's dreams, even against the odds," said Henson, 43, who earned an Academy Award nomination for Best Supporting Actress opposite Brad Pitt in the 2008 film, "The Curious Case of Benjamin Button."
The film also stars the late Duncan, who received a Best Supporting Actor Academy Award nomination for "The Green Mile" in 1999.
Clarke died in 2012 at the age of 54, just months after completing "From the Rough."
Former "NYPD Blue" and "Pretty Little Liars" star Henry Simmons, and original "Destiny's Child" singer, LeToya Luckett, also appears in the 92-minute film, which opened on Friday, April 25, and showings are scheduled at several local theaters including the Regal Majestic 20 & IMAX in Silver Spring, Maryland, AMC Theatres Hoffman Center 22 in Alexandria, Virginia, and the AMC Magic Johnson Capital Center 12 in Largo.
"At first glance, many are probably thinking that black people aren't going to be interested in golf or a golf movie," said Tyrus Barker, who regularly plays golf with friends and family members at the Langston Golf Course in Northeast.
"But, this is our history. Golf isn't just about Tiger Woods, it's about Catana Starks, too," said Barker, 58.
One of Barker's golf buddies, Desmond Rice, said he hopes that the new film will further encourage African Americans to hit the links.
"We as black people typically have a little more stress and, believe me, playing a round of golf, just a round, helps to rid you of that if just a little bit," said Rice, 61.
"But, let me tell you, I'm glad that the Catana Starks story has made it to theaters because it's inspirational and it further lets us know that we are only as limited as we allow ourselves to believe we are. She obviously didn't allow any perceived or even real limitations [to] stand in her way."
After Tennessee State joined the Ohio Valley Conference in 1986, the school's former athletic director Bill Thomas traded their swimming program for a men's golf team and requested that Starks coach the team.
At the time of the change, Starks served as the school's men's swimming and diving coach and she had very little experience coaching golf.
"I was hired to teach," Starks told ESPN. "They asked me to return to teach and that's what I was doing. I was asked to take over the men's swimming and diving teams. I did that for a couple years and [then] we joined the Ohio Valley Conference."