EDITORIAL: NCAA and Unionization
4/30/2014, 3 p.m.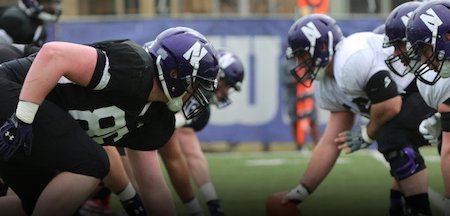 Whether the union vote taken by Northwestern University football players last Friday succeeds or fails, its significance will have far-reaching repercussions well beyond the gridiron.
Players voted whether to be recognized as a union after the National Labor Relations Board ruled that the university is a workplace, therefore giving the players the right to seek representation.
NCAA President Mark Emmert claims that unions "would blow up everything about the collegiate model of athletics."
Northwestern players want to be paid, want concussion testing, better medical coverage and four-year scholarships that cover the entire cost of college attendance.
Emmert's right, because unions would begin to bring parity between the National Collegiate Athletic Association (NCAA) and its student-athletes and dismantle the exploitive system that is a cash-cow. Emmert, who makes a multi-million dollar salary, has characterized any attempt to unionize as inappropriate and unnecessary. The expectation is that a vote to unionize – and that's not certain – will land the case in court.
It may be months before we learn the results, but this case serves notice to the NCAA and universities across this country that a much-needed change is in the offing.
This development comes at a time when the NCAA is under intense scrutiny. A number of critics have described the relationship between the NCAA and student-athletes as "the new slavery."
In 2012, during March Madness, the NCAA made more than $1 billion in advertising revenue, while the "gladiators" who battled for basketball supremacy made nothing. Not a dollar.
The NCAA also made a ton of money in other areas. As Michael Lewis, author of The Blind Side and Moneyball, explained, "It's a purely commercial enterprise, and a pretty ruthless one. College sports is professional in every aspect but one. They don't pay the players."
The NCAA also raked in cash from broadcast rights ($10.8 billion over 14 years with CBS); ticket sales and sponsorships ($40 million); the division of March Madness revenue among schools and conferences that have basketball teams; and then there's gambling and wagers (more than $7 billion a year in bets on March Madness games).
According to USA Today, Duke Basketball Coach Mike Krzyzewski made $9,682,032.00 this year, while Louisville's Rick Pitino made $4,678,327.00 and John Calipari of Kentucky earned $5,200,000.00. No one begrudges these coaches the money they make, but if universities are willing to ante up this type of money for coaches, the NCAA should be willing to pay those who make these financial windfalls possible.
On the flipside, you have players like Shabazz Napier, one of the most talented and heralded basketball players in the country, who led the University of Connecticut Huskies to national championship glory last month. During interviews after the game, he told reporters that sometimes he's starving when he goes to bed because he can't afford food even though there are provisions in place that offer the university's student-athletes meal plans.
It's not lost on people that Napier, the finals MVP, is going to bed hungry while the NCAA makes hundreds of millions of dollars off of him. Obscene is one word that comes to mind.
The NCAA was quick to respond to Napier's comments and last week, the NCAA Legislative Council approved unlimited meals and snacks for Division I student-athletes as long as they're involved in their sport.
Unionization is just the latest salvo across the NCAA bow. There is growing unrest among players, more critics are calling on the NCAA to share the spoils with athletes, and others seek to improve the conditions under which athletes work. The NCAA will undoubtedly attempt to maintain the status quo.
Be that as it may, like it or not, change is a-coming.