D.C. Political Roundup: Gray, GOP Differ on Council At-Large Seats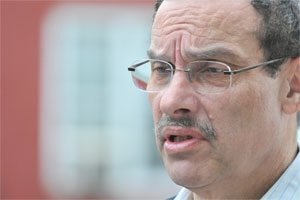 D.C. Mayor Vincent Gray (D), in an unprecedented move, has expressed concerns about a law in the District's Home Rule Charter that sets aside two at-large seats on the D.C. Council for non-Democrats.
"It seems to me that the compromise with the Republicans who supported Home Rule in the District in 1973 that two at-large seats go to Republicans or non-Democrats is outdated," Gray said on April 16 at the Emancipation Day Parade that took place in Northwest. "That compromise took place 40 years ago and it should be revisited."
Gray, 71, expressed similar sentiments at the Democrats Unity Breakfast on April 4 at Matthews Memorial Baptist Church in Southeast.
However, leaders of the District of Columbia Republican Party disagree with the mayor's assessment.
"Yes, I do think that you should reserve the two at-large seats on the D.C. Council for minority parties," Ralph Chittams, the vice chair of the city's GOP, said. "If you want any illusion or hope of having any dissenting voices in this city, those two seats need to be reserved for non-Democrats," he said.
The Democratic Party has a 10-1 registration advantage over the Republicans in the District.
Jerry Moore, Carol Schwartz and David Catania have served on the D.C. Council as Republicans while Statehood Party members Julius Hobson and Hilda Mason have also been elected to the council.
William Lightfoot became the first independent member of the council in 1988.
The issue for the Republicans is that no member of their party has served on the D.C. Council since 2009. Catania changed his party affiliation to independent in 2004 because of the national GOP's reluctance to embrace same-sex marriage.
Other independents who have served on the D.C. Council are former Democrats Michael Brown (2009-2013) and David Grosso (2013-present).
Former 2013 Democratic at-large candidate Elissa Silverman will likely run as an independent for the non-Democratic at-large seat in the Tuesday, Nov. 4 general election. D.C. Council member Yvette Alexander (D-Ward 7) running as an independent for the non-Democratic at-large seat in November is another possibility, as well.
Gray said that it's unfair that the District has to be penalized for its strong Democratic base.
"No other jurisdiction in the United States is set up this way," the mayor said. "You have some states where there is one party rule and that is not prohibited. It is the people who should decide who should be elected to office."
Nonetheless, D.C. Republican Party Executive Director Robert Turner insist that his colleagues will fight to keep the two non-Democratic seats on the council.
"We will fight this in two ways: through the courts and Congress," said Turner, 43. "We will sue if Yvette Alexander tries to run as an independent but keep her seat on the D.C. Council as a Democrat. If necessary, we will get our fellow Republicans House Speaker John Boehner and U.S. Rep. Darrel Issa [he chairs a committee that deals with District affairs] involved to keep those two seats."
Norton to Fight for D.C. on Pot Decriminalization
D.C. Del. Eleanor Holmes Norton (D) is set to go into battle on Capitol Hill for the District's right to implement a law that allows the decriminalization of marijuana. Later this month, Norton will testify at a hearing on the issue during the House Oversight and Government Reform Committee's Subcommittee on Government Operations.
"It is inappropriate to hold a hearing on the local marijuana laws of only one jurisdiction, the District of Columbia, when 18 states have decriminalized marijuana, 21 states have legalized medical marijuana and two states have legalized marijuana," said Norton, 76. "There is nothing that distinguishes the District from these states except for Congress's illegitimate power to overturn the democratically enacted local laws of the District. What is clear is that the enforcement of marijuana laws here and throughout the country has a disproportionately unfair effect on African-American men and boys, leaving them with criminal records that often cripple them for the rest of their lives."