Greater Washington Urban League to Hold 76th Annual Membership Meeting
4/30/2014, midnight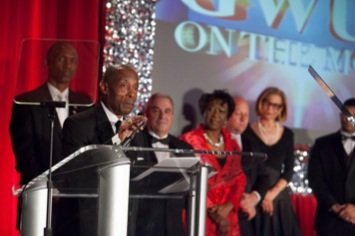 The Greater Washington Urban League (GWUL) will hold its 76th annual membership meeting on Wednesday, April 30, hosted by George Washington University.
Under the theme "On the Move," GWUL's new President and CEO George H. Lambert, Jr. and Board Chair Michael P. Akin will salute more than 100 corporate donors for their sustaining support.
The annual meeting and free buffet reception will be held from 6:30 p.m. to 8 p.m., in the Marvin Center Grand Ballroom at the University, 800 21st Street NW. The event is free and open to the public.
The 2014 GWUL Chairman's Award will be awarded to Jackie Bradford, NBC4-TV president and general manager. This award is presented to a GWUL board member who provides exemplary services to the GWUL and its programs. Bradford joined the GWUL board in 2011 and is known for providing high quality programming at NBC4 and making sure the station takes the lead on more than 50 local community-based initiatives.
Derek K. Harps, the recipient of the GWUL President's Award, is vice president and team leader for M&T Bank's Greater Washington Not-for-Profit Banking Group. He is being recognized for his financial leadership and service for assisting the GWUL in the purchase of its headquarters building and helping to move nonprofits to financial stability so they can better serve their communities.
Queen L. Gladden, the League's veteran special events and volunteer coordinator, will be honored with the League's Outstanding Service Award for her dedication and commitment to the mission of the League. There also will be acknowledgements of outstanding volunteers of the year.
Some of the corporate sponsors that will be recognized are Capital One, Comcast, Enterprise Rent-A-Car, Fannie Mae, GEICO, General Dynamics, George Washington University, NBC4-TV, PEPCO, PNC, Reingold Link, Safeway, Southwest Airlines, Wal-Mart and WPGC/CBS Radio.