Highland Park Christian Academy Wins Robotics Award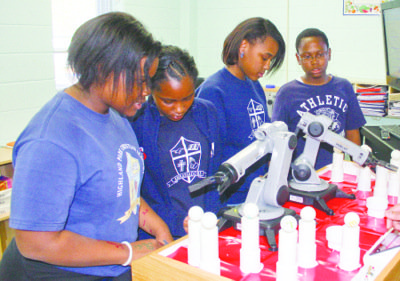 The students, faculty and staff of Landover's Highland Park Christian Academy are walking with a little more pep in their step and chests out after having snagged a $10,000 grant to begin a robotics program at the school.
Principal E. Louise White said to her knowledge no other public or private school in the area received the YouthTouch grant from the Nebraska-based Goldenrod Research Corporation, and Highland Park is one of only 300 schools worldwide to be so honored.
"I have worked about 40 years as a teacher and administrator and in different capacities as an educator," said White. "This is a different season in my life. Here I have the ability to be creative and make teaching exciting and immersive."
"What's excited me is that this is a new way of teaching. I'm still in the game because I'm always looking for new ways to learn."
White said the school has to come up with a matching amount of $10,000 which will likely be raised through fundraising efforts. The school and church will raise the money, she added.
The grant pays for a robotics program, which will introduce students in grades 2 through 8 to the robotics tools – including joystick-controlled robots and robotic arms.
The plan, White said, is for students and teachers to incorporate the program into the school's curriculum. When the system is fully operational, the robots will be an added component and teaching tool that will help students solve problems and enhance language arts, teamwork, mathematics, sciences and communications activities.
"We will add this to the Summer Program and it will start in August," White said of incorporating the robotics program into the school's curriculum. "It's tied to the Maryland State Science standards and common core standards."
Last Friday, Goldenrod president Lea Melchior instructed seven teachers in a day-long hands-on training session on how to properly use the robot arm, hydralift, and other parts of the apparatus.
Stanley D. Jackson, the school's technology coordinator crowed about the school's recognition.
"It's the first time that a school in the D.C. area in 30 years has gotten a grant nationally or internationally," he said. "We're the little diamond on the hill in Ward 9, in the shadow of the (U.S.) Capital."

He said he's excited about the possibilities the robotics program engenders.
"We're using computers that should be tossed off the coast of Florida for a coral reef," Jackson joked. "But we're not complaining. We use what we have. Our technology evolution has been strategic. This is one of the few schools that have adaptive computer-based assessment. "
"Going forward, we want to position this (robotics) across content areas, such as social science and mathematics," said Jackson, who with his wife operates an IT company, Front of the Bus Productions in Northwest. "We want to sustain shared responsibility and ownership. We want teachers to be able to incorporate this into their curriculums. We wanted the time between now and the fall to train, write and wrap it into the content."