Hundreds Walk for Healthy Babies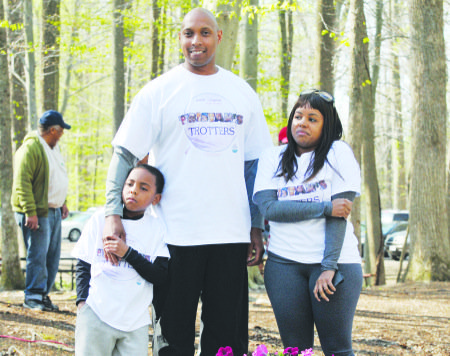 Hundreds of people zipped up their windbreakers, put on their running shoes and braved a breezy spring morning to bring attention to a public health issue during an annual walk last weekend.
More than 500 people from across the D.C. metropolitan area strolled and jogged along a three-mile path during the annual March for Babies at Watkins Regional Park in Upper Marlboro, Maryland. The Saturday, April 26 event, hosted by the March of Dimes Suburban Maryland Division, celebrated the participants' efforts to raise thousands of dollars and address the more than 8900 premature births expected to occur in Maryland this year.
"Through March for Babies, we are able to remember the babies in our lives," said Jennifer Abell, director of the March of Dimes Suburban Maryland Division, headquartered in Arlington, Virginia. "We are encouraged to see so many people walking today to support one another as well as March of Dimes research and community programs [that] give all babies a healthy start in life."
This year's fundraising cycle started in February and continues through the month of June with the final amount collected projected to reach nearly $170,000. Visitors representing more than 100 families, companies, black Greek letter organizations, and nonprofits collected funds through personal and professional networks and social media.
Denise Rolark Barnes, publisher of The Washington Informer and Kellye Lynn, anchor for News Channel 8, served as mistresses of ceremonies. Barnes applauded the March of Dimes' efforts and later led walkers across the start line with Lynn.

"March of Dimes has touched more lives than [people] realize," said Barnes during her remarks. "Their work is not done until all babies are born healthy. We march in honor of those who did not survive. I am the mother of a baby that did not survive. I'm glad that March of Dimes helps those in similar situations. There are people who are not here but need support."

Amelia Gray warmed up for the morning's activities with her two daughters, grandson, and two nieces by her side. She said that her family has raised more than $1000 in donations to date.

"We need to advertise [more of March of Dimes' work] and show the community how this organization has supported babies that would have not been here otherwise," said Gray, 58. "It's been over 20 years since we started supporting [the March of Dimes]. So it's important that we help the children," said Gray, an IT specialist who lives in Upper Marlboro, Maryland.
A 2013 Centers for Disease Control and Prevention report showed that one out of eight mothers across the country deliver prematurely every year. Experts say that preterm births, described as the delivery of infants more than three weeks earlier than their expected due date, results in the majority of infant deaths. Babies that survive premature births face a higher risk of respiratory problems, cerebral palsy, and hearing loss later in life.
"People should know the signs of premature births and support researchers in finding a solution," said Andrea B. Smith, an information manager for the federal government. She said that her family raised more than $2000 in memory of her daughter Braelyn who died weeks after a premature birth in 2013.
"We can save many lives. Even though it's my first time walking, it's definitely not my first time donating," said Smith, who lives in Silver Spring, Maryland.