Library's Rare Black Newspapers Open to Public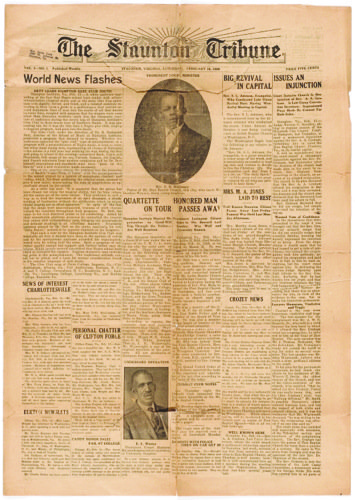 Five African-American newspapers published in Staunton, Va., early in the 20th century will be available for public view on Thursday, May 1 in the Richmond-based Library of Virginia, 800 East Broad Street. The newspapers detail the lives and concerns of African-Americans living in Staunton between 1916 and 1931.
The Augusta County, Virginia Genealogical Society donated the newspapers to the Library of Virginia, established in 1823 to house, protect and preserve books, manuscripts, newspapers and other materials documenting the Commonwealth's history.
"We have encapsulated the African-American newspapers in sealed, acid-free, plastic sleeves. Anyone can see, touch and read them [without damaging them]," said Errol Somay, coordinator of the library's Virginia Newspaper Project, which locates and inventories archival newspapers. "They will be in our second floor reference area. At a later date, we will scan and digitize them for Internet viewing."
The Virginia Newspaper Project is part of the United States Newspaper Program, a cooperative effort by federal and state governments to microfilm U.S. newspapers published from the 18th century to the present.
"The Staunton newspapers are significant because they provide valuable insight about African-Americans in the more western part of Virginia," Somay said.
All U.S. newspapers from previous centuries, whether published by whites or African-Americans, are difficult to obtain, explained Somay.

"African-American newspapers from the past are especially hard to find, because they haven't been [saved or preserved] in any organized way. Such old newspapers are brittle and fragile. They must be stabilized, mended and healed in a conservation laboratory because they tear and crumble so easily."
The newspapers acquired by the library are The Staunton Reporter, which focused on local news, and The Staunton Tribune, which highlighted national and international news.
Staunton resident Jennifer Vickers, 62, the newspapers' original owner, sold them to the Augusta County, Virginia Genealogical Society years after her great-grandmother, grandmother and mother left them to her.
"I saw Alex Haley, author of the book 'Roots,' speak in 1970 at Mary Baldwin College here in Staunton," Vickers recalled. "[I was inspired] to research my family history. When I read these newspapers, I saw in them the lives of family members."
When Vickers began her research, there was little documentation about African-Americans in genealogy organizations or courthouses. "[African-American families'] information was often recorded in the back of record books, and not archived correctly," said Vickers. "It was misplaced, or simply thrown away. Today with the Internet and family history websites, it's much easier to trace families' histories."
An obituary published in The Staunton Reporter refers to Vickers' great-uncle, Raymond Johnson. In 1916 he was struck in the head with a baseball, and died waiting for medical assistance that never came.
Not all of the newspapers' articles are about tragic events. There are also accounts of religious revivals held in tents, essay contests, and a tour by a musical quartet from the historically black Hampton Institute (now known as Hampton University) that was "well received" by audiences.
Vickers' oldest newspaper was an 1894 edition of The Staunton Tribune, which she donated to the W.E.B. Du Bois Institute for African and African-American Research at Harvard University.
"The Staunton Tribune is important to Virginia history because it was published by Willis Carter, a former slave who became an educator and publisher," said Somay. Prior to newspaper publishing, Carter was a teacher and a principal in Staunton. He led civil rights demonstrations, and served as an alternate delegate to the 1896 Republican National Convention. Somay said the W.E.B. Du Bois Institute's director, Dr. Henry Louis Gates, expressed interest in the newspaper because of Carter's history.
"We don't know who edited The Staunton Tribune issues we have in our collection," said Somay. "They were published after Carter's death."
Vickers kept the Staunton newspapers for personal reasons, but eventually decided to share them with the public. "My only intent and responsibility was to honor [my] family history, their memory, and gift them for future generations to come," Vickers said.
The Virginia Newspaper Project seeks other historic Virginia African-American newspapers. Individuals who own such newspapers and are willing to donate them or provide copies to the Library of Virginia or the University of Virginia may email Errol.Somay@lva.virginia.gov, or call the library at (804) 692-3500. For a list of the newspapers, visit http://www.lva.virginia.gov/exhibits/mitchell/comherit.htm.