P.G. County Briefs: Usama Young Gives Back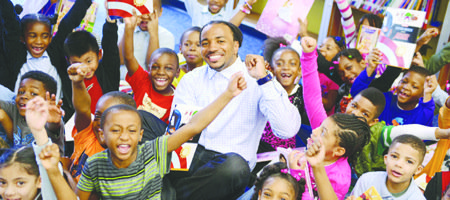 Usama Young of the Oakland Raiders recently returned to Phyllis E. Williams Elementary School in Upper Marlboro, Maryland, to donate new books to students.
Young attended the school as a child and his generous donation was done in partnership with "Athletes for Charity" and its "Youth Literacy Initiative."

"Education and academic achievement have always been a focal point in my life instilled in me by my parents at a very early age," said Young. "It is befitting for me to return to [the school] that helped develop my early love of learning and share that passion with current students."
Book donations included "Disney's Wonderful World of Earth," "Wonderful World of Dinosaurs," "Wonderful World of Nature," and "Wonderful World of Space," and other book series that feature notables like Jackie Robinson, Nelson Mandela, and President Barack Obama and first lady Michelle Obama.
"We [were] extremely excited that Usama visited us," said Karen DeSouza-Gallman, the principal at Phyllis E. Williams. "It's great that he brought a positive message about the importance of education to our students and even better – spread the joy of reading."
Arbor Day Celebration
Prince George's County officials joined students and staff at Longfields Elementary School in Forestville, Maryland for an annual "Arbor Day Celebration" that included the planting of 49 trees which designated the building as a green school.
During the celebration, Adam Ortiz, director of the Department of Environmental Resources, presented a proclamation to the principal, Maisha Strong, who is also scheduled to accept the "Tree City USA Award" from the Maryland Department of Natural Resources' Forest Service.
"I hope the students take this experience with beautifying our school into something they will do for years to come," said Strong.
Derrick Davis, District 6 County Council representative, added that such partnerships serve as an example of citizens' seriousness concerning the health of their environment.
"We have a responsibility as elected officials, community activists, and as school leaders to instill in them that the world they inherit is important," Davis said.
Applications Accepted for Summer Bridge Programs
The school system is still accepting applications for enrollment in summer bridge programs.
Among the remaining bridge programs are slots for the Advanced Placement (AP) Summer Bridge Academy, which is offered at no cost to students taking an AP placement course this fall. The program teaches students to develop and improve strategies for thinking, writing, goal setting, planning, time management, note-taking and other valuable skills needed to achieve success in academically-challenging courses.
The wide variety of enrichment and bridge programs are being offered for all grade levels, although rising 9th-graders are being encouraged to explore the Algebra 1 and Biology programs.
For more information, visit the Summer School webpage at www1.pgcps.org/summerschool/ or call 301-808-1124.