RIF Gala Helps Cultivate Next Generation of Readers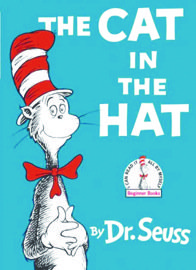 Carol Rasco remembers as a child growing up in the Arkansas Delta her parents and grandparents helping instill in her a deep love for reading and the written word.
"I remember my daddy between dinner and the evening news reading," recalled Rasco, president and CEO of Reading is Fundamental (RIF). "My grandparents did that too. Every summer, my grandparents took two of their grandchildren for six weeks. We traveled in a trailer and we had a box from my grandmother with 'the word of the day.' We would say the word, spell and have to know how to use it in a sentence."
"It was amazing as we drove and I saw some of those words. My grandmother was a big supporter of education. Her parents died when she was young and she put her siblings through college."
On the evening of April 24, about 450 supporters, philanthropists, RIF staff and volunteers – book lovers all – joined Rasco at the 2014 Reading is Fundamental Cat in the Hat Gala. CNN and ABC news correspondent Jeanne Meserve guided the evening's activities at the Four Seasons Hotel in Northwest as mistress of ceremonies, and special guest Alma Powell read a Cat in the Hat bedtime story to the rapt audience.
"I was made aware of RIF in 1970 when Colin was a White House Fellow," said Powell of her husband, retired general and former U.S. Secretary of State Colin Powell. "If a child isn't reading at grade level by age three, (he/she) will drop out (later in their school life). A study (by Betty Hart and Todd R. Risley) showed pictures of childrens' brain development and a 13-hour-old baby imitating movements. This shows the importance of giving them a sound foundation for reading."
Rasco concurred.
"Eighty-six percent of children who have trouble in third grade will have trouble in the 12th," she said. "We can predict who will dropout … this job makes me realize that there are millions of kids who don't have a book. In a lot of homes, children say there are two books: The Bible and the Yellow Pages phone book."
"One of the biggest hurdles we have is to get people to understand that when people are debating between buying Pampers and reading, reading isn't a priority. Parents don't read, can't read or are uncomfortable reading. We have to tell parents to make up their own stories with the pictures in the book or tell them to do a family history."
Powell, chair of the America's Promise Alliance and a longtime advocate on children and youth issues, recalls growing up in a house filled with books. Her godmother was a librarian and Powell said she read frequently to and with her mother.
"I'm impressed by RIF and dedicated to helping our children to read," she said. "I see and know the joy a book brings. I will continue the tradition of reading bedtime stories and talking about the importance of reading."
In a lot of ways, some people said RIF is often playing catchup, trying to attract children who live in poverty or reside in underserved communities.