Wizards Take Control in Playoffs
Defeat Bulls to Advance for the First Time in a Decade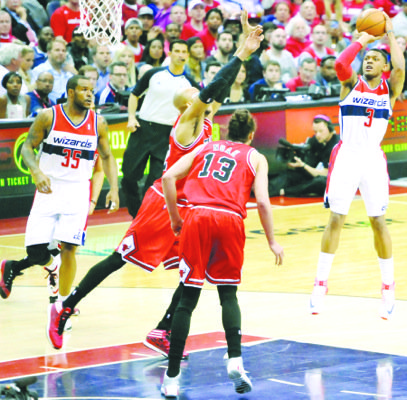 The Bullets defeated that same Supersonics team a year earlier in 1978 to win the franchise's only NBA championship.
"There were probably people saying that we didn't have a chance this year and now they're saying how great we are," Wizards head coach Randy Wittman said. "We can't read into that. We've just got to go out and play."
Ariza, the Game 4 hero who scored a team high 30 points and grabbed eight rebounds in picking up the slack for the suspended Nene, said the team is thrilled to be in a position to advance to the second round.
"We still have better basketball that we can play," said Ariza, 28. "It's about the opportunity presenting itself and, so far, we've taken advantage of what's been presented."
Additionally, opponents might find it frightening that the young Wizards are handling the pressure of the playoffs with the skill of seasoned veterans.
In three of the contests in the Chicago series, the Wizards have gotten off to fast starts, opening Game 1 with a 19-13 run before besting that in Game 2 with a 29-12 spurt and then outscoring the Bulls 15-8 to begin Game 3.
"We went through the adversity of not winning a lot of close games and not knowing how to close teams out," Wall, 23, said after the Wizards victory over the Bulls in the series' second game in Chicago on April 22.
"Now, we're staying with it as a group. We're going with whoever makes the right play. Whoever is hot," Wall said.
In Game 4, Ariza held the hot hand and refused to allow his teammates to get down after Nene's suspension for an on-court altercation with Bulls guard Jimmy Butler.
"We're a smart enough group to understand that when one of your pieces goes down, you have to find ways and a will to win," Ariza said.