CBC, Democrats Blast House Lawsuit against Obama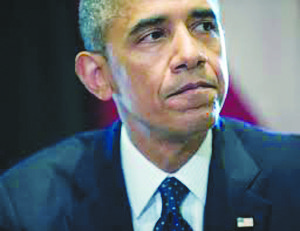 The House vote to sue President Obama for alleged abuse of executive authority was immediately rebuked by the White House and Democratic leaders, who chastised the suit as a guise to eventually push for impeachment.
The Wednesday vote, 225-201, largely fell along party lines, and White House senior adviser Dan Pfeiffer quickly excoriated House Republicans for its "waste" of public time and money.
"The House of Representatives just took a vote, and it wasn't to raise the minimum wage, put in place equal pay, create jobs or reform our broken immigration system," he said. "Instead the Republican-controlled House of Representatives just voted to sue the president for using his executive authority. This lawsuit will waste valuable time and potentially millions of taxpayer dollars."

Rep. Marcia Fudge (D-Ohio), who chairs the Congressional Black Caucus, said that the House leadership makes a mockery of the country's democratic process.
"Republicans claim to be defenders of the Constitution but they are not," Fudge said. "Instead the GOP is undermining the law by suing president for exercising his authority as the leader of the executive branch — one of the three equal branches of our government. The suit is an attempt to embarrass the president, cast aspersion of his character and continue the Republicans' ultimate goal of impeachment."

Rep. Debbie Wasserman Schultz (D-Fla.), who serves as the chairman of the Democratic National Committee, said that the lawsuit serves as an example of House Republican leaders failing to do their job.
"With Congress preparing to depart for August recess, the Republican House used that time to vote to sue the president and on Republican infighting," Wasserman Schultz said. "Congress had an opportunity to take action that would help American families, by focusing on things like creating more good paying jobs, passing paycheck fairness or reforming student loans.
"As members return to their home districts, House Republicans' display of incompetence and misplaced priorities will be fresh in the minds of their constituents, only helping Democrats make the case this November that it is the Democratic party who is on the side of middle-class families," she said.