Rushern Baker to Head County Executives of America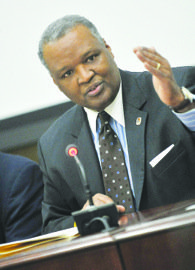 Prince George's County Executive Rushern Baker III scored a major political and career victory recently when he was elected as the president of the County Executives of America.
The organization consists of elected chief executives of over 720 counties across the nation and it represents the interests of top county leaders before Congress, the White House and all federal departments.
Baker, who will serve a two-year term, succeeds Montgomery County Executive Ike Leggett, who has held the position since 2012.
"Throughout this nation, county executives are responsible for leading 56 percent of the American population and they play a critical role in protecting [people's] homes, educating citizens and providing other essential services needed in their communities," Baker said. "Unlike mayors and governors, most county executives are not known outside of their local jurisdictions and regions. It is my goal to educate the public on the many issues that counties face and raise the visibility of these important public officials who affect the lives of so many Americans."