Boseman Carries Masterful Brown Biopic 'Get On Up'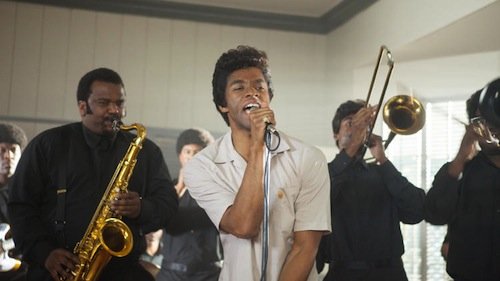 The life story of R&B singer James Brown, who died Christmas Day in 2006 at 73, is finally told on the big screen in a way that audiences can appreciate not only as good film-making, but for how it made the spirit of the musical icon move in his fans.
The 138-minute biopic "Get On Up," which was years in the making, brings the life of the "Godfather of Soul" full-circle, recalling when he was "born dead" and tracking his inner demons that fueled his control-freak tendencies and edgy persona.
Right from the opening scenes of a drugged-out Brown's infamous police chase and high-profile arrests in 1988, the film expertly and unflinchingly covers the most important angles of the rags-to-riches story of one of America's most spellbinding and prolific entertainers.
James, as a teenager, is eventually arrested for stealing a three-piece suit and is given a lengthy sentence at a detention center where he fatefully meets future bandmate and right-hand man Bobby Byrd (Nelsan Ellis), who was performing for the inmates as the lead singer of a male gospel group.
The Tate Taylor-directed film captures several pivotal moments in Brown's life, including his two marriages (singer/actress Jill Scott plays second wife, Dee Dee) that produced three children, the close relationships with King Records and his manager, played by Dan Akroyd, and incidents that led to the recording of monster hits "Mother Popcorn," "Sex Machine" and "Say it Loud — I'm Black and I'm Proud."
Viola Davis and Octavia Spencer ("The Help") star, respectively, as Brown's runaway mother, Susie, and Aunt Honey, the kindly woman who took in Brown as a young boy and raised him in her brothel after his parents abandoned him. Tika Sumpter ("The Haves and Have Nots") drips with sexuality as sultry singer/dancer Yvonne Fair, who toured with Brown in the 1960s.
But it's Chadwick Boseman's Oscar-worthy performance as Brown that keeps the audience glued to the screen. Boseman, who rendered a superb portrayal of baseball legend Jackie Robinson in last year's "42," gives another on-point and soulful performance, effectively transforming to the electrifying performer in voice, mannerisms and energetic dance moves.
The engaging movie is nothing short of a masterful depiction of the man and entertainer who came to be known as "the hardest-working man in show business."