Prince George's County's Newest 'Power Couple'
8/4/2014, midnight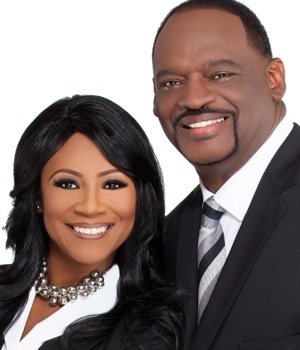 SPONSORED LINK:
What is BluPrint and why are we hearing so much about this start-up company?
Anyone who's in the business of human capital needs to keep an eye on this up and coming consultation firm.
A Prince George's County business, BluPrint was founded in 2013 and virtually hit the ground running.
Within the first year of launch, the firm breezed through accreditation with the International Accreditation Organization. Not one to rest on their laurels, the firm quickly secured approved vendor status from the Human Resource Certification Institute commonly known as the HRCI. If that wasn't enough, they also became the global certifying body for Human Resource professionals. Not bad for a one woman operation.
Yet, Founder, President and CEO, Gloria B. Thornwell is quick to say she didn't get here on her own. A big part of BluPrint's success is the strong relationship she shares with her husband, Co-founder, Executive V. P. and CFO, Bryant K. Thornwell.
Together they make up the new power couple in the Washington, DC area and certainly a pair to watch in the coming months ahead.
For this dynamic duo it's all about helping clients reach their goals. Part of their success is the complete hands on approach they take with every client. This is because the Thornwell's see themselves more as partners than consultants or contractors.
This charismatic twosome must be doing something right because their first year revenues exceeded the one million mark.
In addition, they secured two impressive contracts right out of the gate- one with a local Maryland college and the other playing a supporting role training over 3,000 Maryland state employees for the new Affordable Health Care Act or ACA.
Needless to say, the "BluPrint" for the future looks bright as this certified Maryland based MBE is on track to hit close to the two million mark by the end of 2014.
So how does BluPrint do it?
Most of the success can be credited to Bryant and Gloria themselves. Together they bring to the table an impressive assortment of skills, business experience and executive insight.
As a certified senior executive, Gloria is accomplished in conflict resolution, executive coaching and strategic management. Her role at BluPrint is to build trust with clients which requires a high degree of ethics, responsibility and accountability. She's definitely up for the task with her executive leadership capabilities, sound guidance and expertise in policy development.
Rythee Jones, Associate Vice President of Human Resources at Washington Adventist University stated "I am very pleased with our experience with BluPrint and with Ms. Thornwell in particular. Her thorough approach, professionalism, follow-up and customer-focus have made for a very smooth and rewarding engagement."
In addition Gloria has a Master's Degree in Management and Human Resources from the University of Maryland University College and certified as a Human Capital Strategist by the Human Capital Institute (HCI). She's a qualified Myers Briggs Type Indicator (MBTI) Practitioner, meaning she's highly capable of maximizing staffing requirements and conducting performance assessments through organizational change management or executive career shifts.