D.C. Political Roundup: Bowser Celebrates Birthday with Supporters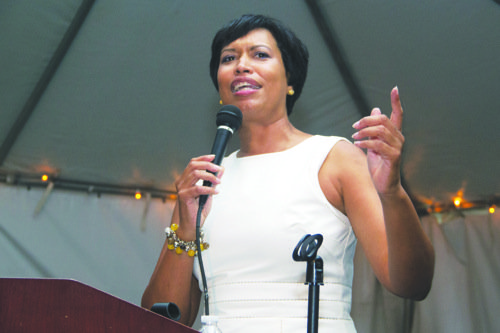 Hundreds of people showed up at the birthday party for D.C. Council member Muriel Bowser (D-Ward 4) on Thursday, July 31 at the home of Daniel and Loretta Neumann Smith in Northwest.
Bowser, 42, won the Democratic Party nomination for mayor of the District on April 1 and she used her birthday bash as a political fundraiser in the hopes of winning the Nov. 4 general election. Bowser thanked all of her supporters and reminded them why she should be elected mayor.
"I will bring our sense of vitality and hope to the city," Bowser said. "If I am elected mayor, I will be a regional leader, a national leader and a world leader that our city can be proud of."
The crowd nibbled on Chinese food and fruit and sipped various beverages as they talked politics while sitting in chairs on a perfectly manicured lawn or under a huge green canopy in the Smith's backyard. A local band provided jazz musical selections for entertainment.
D.C. Council members Kenyan McDuffie (D-Ward 5), Anita Bonds (D-At Large), Yvette Alexander (D-Ward 7) and Marion Barry (D-Ward 8) attended the party. McDuffie made a major announcement when he addressed the gathering.
"Tonight, I proudly endorse Muriel Bowser to be the next great mayor of the District of Columbia," McDuffie, 38, said to thunderous applause. "I know our city will be in the hands of a trusted leader who will fight tirelessly for every resident in the District because I've seen it first-hand. Like me, Muriel was born and raised in Ward 5 and understands how important our good, middle-class Democratic values are; and wants to ensure that more Washingtonians can buy homes, educate their kids and continue to shape our city – just like our parents did."
D.C. Mayor Vincent Gray (D) didn't attend the event but some of his former supporters stopped by. Former Gray supporters such as Ward 4 political icon Ethel Delaney Lee and past Ward 8 Council member Sandy Allen donned Muriel Bowser buttons.
One of Gray's strongest backers, Barry, hyped up the crowd during his remarks.
"I am a longtime friend of Vince Gray's," said Barry, 78. "But after the primary, I called Muriel Bowser and told her that she has my undying support."
Barry noted that Bowser's father, Joe, served as his Ward 7 coordinator in his successful 1978 run for District mayor and that he thought that Bowser would be a great mayor.
A number of candidates for elected offices also showed up including Lorie Masters and Edward "Smitty" Smith for attorney general; Ward 1 D.C. Council member Democratic nominee Brianne Nadeau; W. Philip Thomas for the Ward 3 Board of Education position; District Statehood Representative hopeful Franklin Garcia; independent D.C. Council at-large candidate Eric Jones; and Ward 8 advisory neighborhood commissioner 8C04 contender Markus Batchelor. Political activists and leaders who are considering council bids in the future such as Walter J. Garcia II, an advisory neighborhood commissioner for 7C04 and entrepreneur and political activist A.J. Cooper, who lives in Ward 4, networked and both talked about their qualifications at the party.
The appearance of nationally-known motivational speaker Willie Jolley surprised many at the evening soiree. Jolley, who doesn't generally attend political events, said he wouldn't have missed Bowser's birthday celebration or the opportunity to lend his support.
"I am a Ward 4 resident and Muriel Bowser is my council member," said Jolley, 57. "I think she will do a great job as mayor."
Bonds Sponsors Crime Solvers Bill
D.C. Council member Anita Bonds (D-At Large) wants criminal defendants to pay for their crimes not only by serving time in a correctional institution but by coughing up cold, hard cash.
Bonds, with the support of D.C. Council member Marion Barry (D-Ward 8), has sponsored the "D.C. Crime Solvers Act of 2014" that would assess financial penalties to people who are convicted of crimes other than for traffic, parking or vehicle registration offenses to support the city's Crime Solvers program.
"The Crime Solvers Bill will provide resources devoted to educating and reward the community that forwards relevant information in solving crimes," said Bonds, 68. "Likewise, the bill extracts a small fee from those convicted. Therefore, the bill is of no cost to the taxpayer."